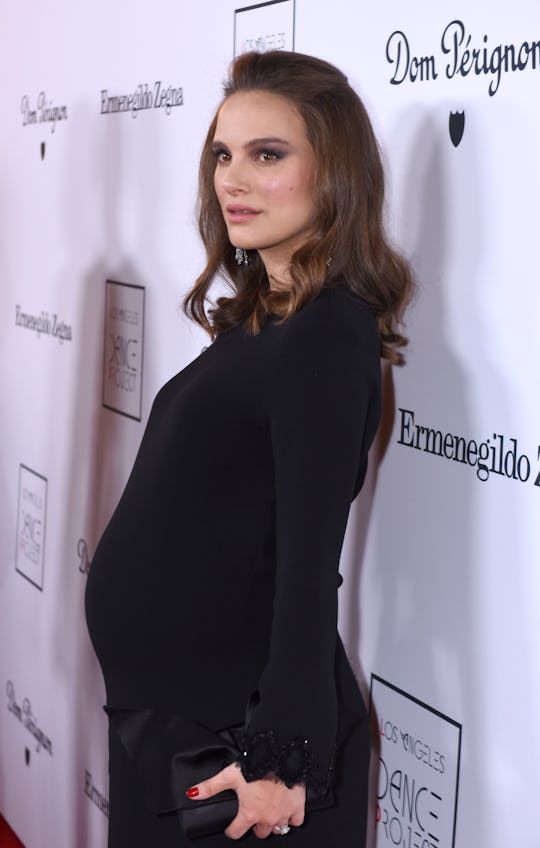 Vivien Killilea/Getty Images Entertainment/Getty Images
Natalie Portman's Due Date Is Getting Closer!
Award season is upon us once again, and Hollywood is abuzz wondering who will take home this year's biggest honors. One of the most highly anticipated films of the year, Jackie, starring Natalie Portman is expected to take home some major wins, including another Oscar nom for Portman. But many are wondering if she'll be otherwise engaged by the time the red carpet is rolled out: when is Natalie Portman due? The leading lady says her baby isn't imminent, and she's planning to attend the Golden Globes this weekend.
Portman announced her pregnancy back in September. This will be her second child with husband, Benjamin Millepied. The couple met during the filming of Black Swan, which won Portman her first Oscar in 2009. Together they have a 5-year-old son, Aleph.
Last fall when Portman began doing press for Jackie — in which she has the eponymous role — she told Jimmy Fallon that she wasn't as pregnant as she looked. "You show a lot faster when you're small," she told Fallon, adding that she still had "months to go," before her due date. That was back before Christmas, though, and a source close to Portman told US Weekly that she's supposedly due "around the Oscars" in February.
In December when she appeared on Ellen DeGeneres' show, Portman admitted that she didn't know if she was having a boy or a girl the second time around. When DeGeneres joked that she should name the baby Ellen regardless of gender, Portman laughed, admitting that it was "a good name." She also admitted that she was having some very different cravings than she did during her first pregnancy with Aleph, "With him I wanted like cream puffs or any dessert with cream in it, or just plain whipped cream straight. And this time it's like healthy pineapple, cucumber, burritos — which is maybe less healthy — but delicious!"
Many in Hollywood are expecting her to get an Oscar nomination for Jackie, so the question of whether she'll be able to attend the ceremony is on a lot of people's minds. The star seems to be feeling well, though, as she's been making the award show circuit and was last seen with Millepied in Palm Springs earlier this week. The couple was attending the Palm Springs Film Fest, where Portman was honored for her role in Jackie. She also won the Critic's Choice Award back in December, and she's been nominated for a Golden Globe. As she continues to sweep the awards, people should probably start placing their bets in the Oscar pool — and maybe a bonus bet for correctly guessing the baby's birthday, too.