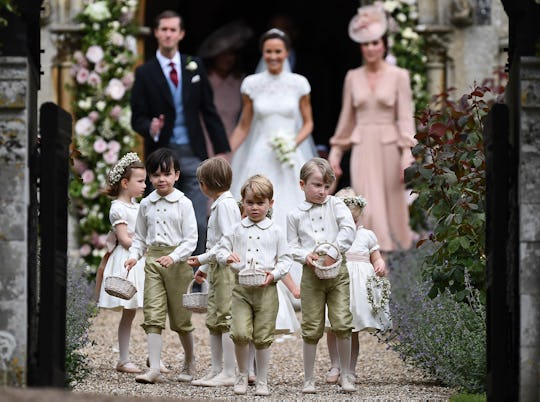 WPA Pool/Getty Images Entertainment/Getty Images
Here's When National Aunt & Uncle Day Falls This Year, So Plan Accordingly
For most of us, the word "holiday" is synonymous with family. You probably have heard of the better-known holidays we might celebrate, like National Siblings Day on April 10, Mother's Day on the second Sunday of May, and Father's Day on the third Sunday of June. But are there other days we need to know about? For example, when is National Aunt and Uncle's Day? Do we aunties and uncles get a day to honor our awesomeness, and should us parents be planning to honor our siblings accordingly?
According to Nationaldaycalendar.com, it turns out that along with the over 1500 random national holidays we celebrate annually in the United States, aunts and uncles do get a special day to celebrate with their nieces and nephews. The same site notes that unlike Mother's Day and Father's Day, which happen on different days each year, National Aunt and Uncle's Day falls on the exact same day — July 26 — which makes it easy to remember for us over-worked parents with already complicated schedules.
If you have a aunt or uncle in your life, you probably know that aunts and uncles are pretty damn special. National Today suggests that you spend National Aunt and Uncle's Day with your favorite aunt or uncle for some special one-on-one time. You can ask them for stories about your parent when they were kids, or simply spend time with someone who just might be like an extra parent to you... but probably way more fun. No matter if you are an auntie with no kids of your own, or your nephews' and nieces' favorite uncle, you deserve your own holiday. And if you have aunts or uncles, there's still enough time to plan to celebrate National Aunt and Uncle's Day.
According to Holidayinsights.com, no one really knows when the first Aunt and Uncle's Day was celebrated. Whatdaytoday.com reports that like National Cousins' Day on July 24 and National Parents' Day on July 28, aunts and uncles get their own special day each year on July 26. Since aunts and uncles are able to have pretty unique relationships with their sibling's kids, it's only fair that we show them how much we appreciate them at least once a year.
If you are wondering what to do for your aunts and uncles on National Aunt and Uncle's Day, nationaldaycalendar.com suggests that this is the perfect day for a sleepover, looking at baby pictures of your mom or dad, or reminiscing about your own memories of your aunts and uncles and your unique relationships with them. If you are a parent it might be fun for your kids to spend the day with their aunt or uncle. If you live too far to make an in-person visit happen, there's plenty of time to make cards, call, or FaceTime with aunts and uncles on their very own holiday.
Aunts and uncles are special largely because they are often the one adult relative who lets you get away with things your parent would never let you do at home, and more than occasionally spoils you rotten. So, Nationaltoday.com, suggests that National Aunt and Uncle's Day on July 26 might be a perfect day to spoil them for a change. If you can't see your aunts or uncles in person on their special day, you can always give them a call or send them a card to show them what they mean to you.
According to Nationaldaycalendar.com, In addition to celebrating your parents' siblings for National Aunt and Uncle's Day, July 26 is also National Bagelfest Day and National Coffee Milkshake Day, so this might give you some ideas for how to show your aunts and uncles that they are simply the best. In other words, if you are at a loss for how to celebrate National Aunt and Uncle's Day day you can always buy them bagels or take them out for milkshakes to celebrate all the random holidays that fall on July 26.
However you choose to celebrate National Aunt and Uncle's Day, it's the perfect time to honor the special relationship you have with your aunt or uncle (or both), that is really unlike any other.