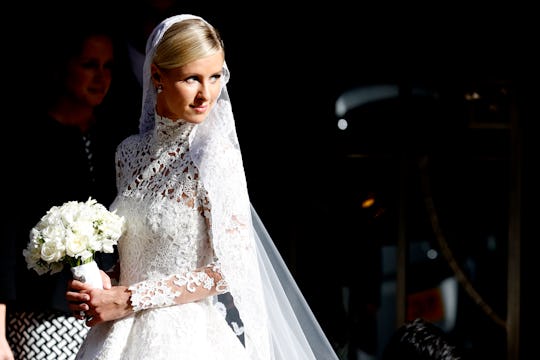 When Is Nicky Hilton Due? Her Pregnancy Is Probably Still In Its Early Weeks
Six months after their lavish wedding at Kensington Palace (Kensington Palace!!!), heiress Nicky Hilton and her banker husband James Rothschild revealed Wednesday that they're expecting their first child, according to People. The high-society couple (I said they got married at Kensington Palace, right?) have so far stayed mum on any details, including when Nicky Hilton is due, but judging from recent sightings, chances are she won't be giving birth anytime soon.
The magazine reported that the couple "were recently spotted browsing at Pottery Barn Kids at The Grove in Los Angeles," although with no mention of a visible bump, it's likely that they aren't yet quite far into their nursery decoration plans. And a source close to the couple apparently agreed, telling People that "they've just begun telling close friends and family," and that the couple is "over the moon" about the pregnancy.
Since the risk of miscarriage is usually highest in the first 12 weeks of pregnancy, according to Babycenter, many couples choose to wait until then (also usually around the time of the first ultrasound) before announcing the news. But of course, the choice of when to disclose a pregnancy is every woman's (and couple's) prerogative — some choose to share the news right away, either due to sheer excitement, or because they would want the support of their loved ones anyway if they were to miscarry early on; others prefer to wait much longer.
And of course, many celeb couples opt out of announcing their pregnancies publicly at all, preferring to keep the news as private as possible (although as pregnancy site What To Expect notes, paparazzi usually end up spilling the beans with unsolicited bump shots anyway). But based on due date calendar projections, if Hilton did opt to wait until the 12-week mark, chances are little baby Hilton-Rothschild could make his or her arrival late this summer.
This will be the first child for the couple, who Hilton told Page Six, met at the 2011 wedding of heiress Petra Ecclestone:
We met the old-fashioned way — at a wedding — which I thought was sweet. He just came up to me and approached me after the reception. I was living in LA at the time, and he was in London — it was very long-distance. We really enjoyed each other and just made it work.
Hilton and Rothschild may already have a "royal" connection thanks to their very regal London wedding at a literal palace, but might their baby have one too? While Hilton's famous sis Paris will probably be an easy choice as godmother, the couple's friend Thomas Van Straubenzee could be a great choice for godfather, as he does, after all, have plenty of experience: the Duke and Duchess of Cambridge chose Straubenzee as one of Princess Charlotte's godparents back in July, according to the the Telegraph.
Congrats to the parents-to-be!
Image: Neil Muckford, Alex Huckle/GC Images, Chance Yeh/FilmMagic/Getty Images; nickyhilton/Instagram