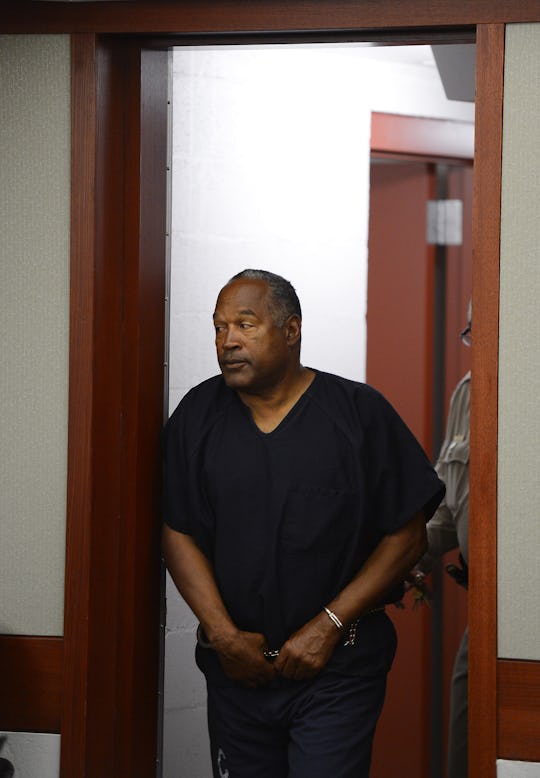 Ethan Miller/Getty Images News/Getty Images
When Is O.J. Simpson's Release Date? He Is Not Far From His Parole Eligibility
The O.J. Simpson saga reignited when Ryan Murphy took on American Crime Story: The People v. O.J. Simpson. Then, following suit, many other specials and programs dove into the dark and twisted murder of Nicole Brown Simpson and Ronald Goldman. But none of them are as detailed as the ESPN Made in America: O.J. Simpson special. The five part special details the rise and fall of Simpson, including his infamous criminal trial where he was charged with the murder of Brown and Goldman (and found not guilty). But, Simpson did eventually land himself in prison, for different reasons, which has lead viewers of the specials to wonder when O.J. Simpson's release date is.
As viewers and even non-viewers will know, O.J. Simpson was acquitted during the criminal trial that took the nation by storm. Although very public, that trial isn't what landed the former football star in prison. It wasn't even the civil trial where he was required to pay $25 million in punitive damages to the Brown and Goldman families that put him in jail. Instead, it was a 2008 incident that resulted in a guilty verdict of armed robbery, kidnapping, and 10 additional charges that landed Simpson in jail, according to the New York Times. Just how many years, you ask? According to the Las Vegas Sun, 33 years in prison without the possibility of parole for nine years. Now, those nine years are just around the corner.
Those first nine years will be up October 2017. Just because he is eligible for parole doesn't mean that he will be granted it. The Las Vegas Sun reports that if he is denied parole, Simpson could be 94 years old when he is released from prison.
At the trial where he was sentenced, Simpson didn't see his crimes as just that. He said:
"I didn't mean to hurt anybody and I didn't mean to steal from anybody. I didn't know I was doing anything illegal. I thought I was confronting friends and retrieving my property."
The Sun also reports that Simpson alleged that there were no guns involved in the altercation. Despite that, Simpson and his co-accused, Clarence "C.J." Stewart, were convicted on all counts, including assault with a deadly weapon.