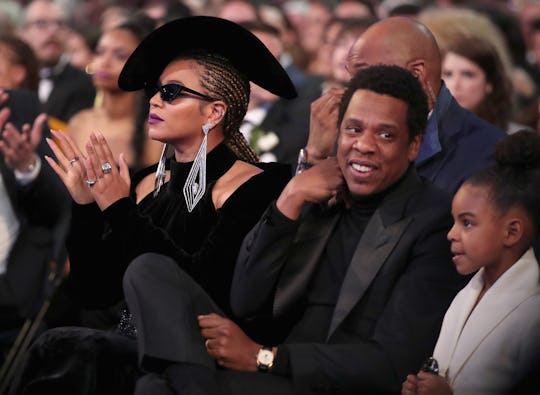 Christopher Polk/Getty Images Entertainment/Getty Images
Here Are All The Dates For Beyonce & JAY-Z's OTR II
There's no doubt that, in the music world and beyond, Beyoncé and JAY-Z are the ultimate power couple. They're creative geniuses who are just as powerful together as they are apart. And that's why fans can't wait to see the two perform together. So when is On The Run 2? Beyoncé and JAY-Z's next tour is bound to be the best one yet.
On Monday, JAY-Z and Queen Bey officially announced dates for the follow-up to their wildly successful On The Run stadium tour, according to Variety. The international concert, stylized as OTR II, starts Wed., June 6 in Cardiff, U.K., and hit up 15 cities across the United Kingdom and Europe before coming to stateside. The North American leg of OTR II will kick off on Wed., July 25 at the FirstEnergy Stadium in Cleveland, Ohio, and stop at 20 other cities before ending in Vancouver, British Columbia on October 2, Variety reported.
Of course, JAY-Z fans and members of the Beyhive will need to hurry up and snatch their tickets when they go on sale on Mon., March 19 through Live Nation and Ticketmaster. Last time the powerhouse couple toured together, tickets were gone in what seemed like seconds, so you definitely don't want to miss out.
If you're a Citi cardmember, you're in luck. Since Citi is the official credit card for OTR II, cardmembers will be able to buy tickets on pre-sale starting Wed., March 14 at noon through Sat., March 17. That's only for tour dates in the United States, Europe, and the United Kingdom, though,
Beyhive and TIDAL subscribers will also have early access to tickets. Tickets will go on pre-sale Wed., March 14 starting at 9 a.m. in North America, according to ABC News. Members of TIDAL and the Beyhive in the United Kingdom will have access starting at 10 a.m. local that day.
Want to know if On The Run II will stop in a city near you? The list of cities seem pretty diverse, and cut across both coasts and the South. In addition to Cleveland, OTR II will hit up Washington, D.C., Atlanta, Philadelphia, Boston, Chicago, Detroit, Miami, and New Orleans, ABC News reported. The 21-city North American tour will also include stops in Nashville, Los Angeles, and Bey's hometown of Houston.
The European leg of the shared tour will stop at Berlin, Warsaw, Milan, Rome, and Barcelona, among others. Bey and JAY-Z will also hit up Paris, the city where the couple taped an Emmy-nominated HBO special for their first On the Run tour.
Beyoncé and JAY-Z first hit the road together for their On The Run tour in the summer of 2014, and performed to sold-out audiences in the United States and Canada over the course of six weeks, according to Billboard. During the tour, fans had a chance to hear live versions of tracks from JAY-Z's Magna Carta Holy Grail and Bey's astonishing self-titled album released in June 2013, as well as older hits from their respective song catalogs. The 20-show tour was a smash hit, so much so that the couple earned $95 million from the trek — the eight-highest grossing tour of that year, according to Rolling Stone.
There's no doubt that the second installment of On The Run will be just as spectacular as the duo's original Bonnie and Clyde-themed jaunt. Fans lucky enough to grab tickets should expect to hear songs from JAY-Z's 4:44, his 13th studio album released last year, and Queen Bey's Lemonade, her intensely personal and powerful album she dropped in 2016. OTR II should just be an amazing experience all around, but then again, how would it not?