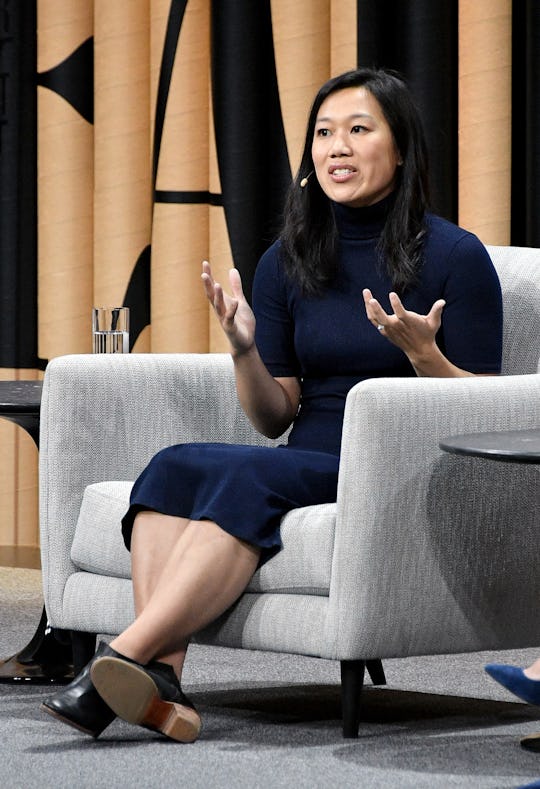 Mike Windle/Getty Images Entertainment/Getty Images
Priscilla Chan's Due Date Is A Bit Of A Mystery
The Zuckerberg-Chan clan is adding one more member to its numbers! On Thursday, Facebook CEO Mark Zuckerberg announced that he and his wife, pediatrician Priscilla Chan, are expecting their second baby. The world can't wait to meet Max's younger sibling, which begs the question: When is Priscilla Chan due?
Zuckerberg (understandably) didn't share too many details about Chan's second pregnancy in his Facebook post — but many expecting moms wait until they hit the 12-week mark before announcing their pregnancies. According to Fit Pregnancy, the risk of miscarriage and other complications is higher in the first trimester, so many women will wait the first few weeks out before sharing their happy news. If Chan and Zuckerberg decided to follow that norm and delay their announcement, Max's sibling could be due six months from now, in September.
That said, who knows if Zuckerberg and Chan decide to wait a full 12 weeks before announcing Chan's pregnancy? Or if they decided to hold off for even more time before sharing the news? Unless the pair decide to give fans a few more details, the world will just have to wait and see.
Luckily, Zuckerberg did share one big piece of information in his Facebook post: he and Chan are expecting a second daughter. "Priscilla and I are happy to share we're expecting another baby girl!" Zuckerberg wrote on Thursday. "I cannot think of a greater gift than having a sister and I'm so happy Max and our new child will have each other."
Zuckerberg's announcement was fitting, considering it came just after International Women's Day. "When Priscilla and I first found out she was pregnant again, our first hope was that the child would be healthy. My next hope was that it would be a girl," Zuckerberg wrote. "We are all better people because of the the strong women in our lives -- sisters, mothers and friends. We can't wait to welcome our new little one and do our best to raise another strong woman."
Chan and Zuckerberg's first daughter, Max, recently celebrated her first birthday. Zuckerberg announced Chan's first pregnancy on July 31, 2015, then announced Max's birth on Dec. 1, 2015. If I'm doing the math right, Max's birth came about four months after the couple's pregnancy announcement. Whether Chan's second pregnancy will follow a similar timeline or not remains to be seen.
The most important thing, however — especially considering that the couple had a "difficult experience" having Max, according to Zuckerberg — is that Chan has a happy and healthy second pregnancy. Congratulations to the growing family!