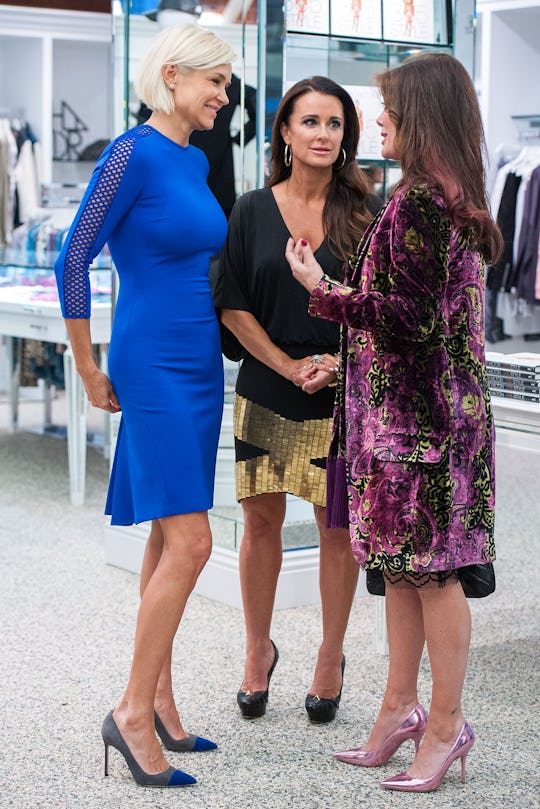 Valerie Macon/Getty Images Entertainment/Getty Images
When Is 'Real Housewives Of Beverly Hills' Season 7? Everyone Wants More Drama
The Real Housewives of Beverly Hills is finishing up its sixth season. It has been a wild ride of accusations, fancy vacations, and more talk about Munchausen Syndrome than anyone probably needed to hear. After the usual three-part reunion, in which everyone sits around in glittery gowns analyzing the events of the season without really coming to a conclusion about any of it, the final installment, "Secrets Revealed," will give a final taste of never before seen ridiculousness. Sadly, it's the last bit of RHOBH fun until the next season starts. When is Real Housewives of Beverly Hills Season 7?
The series has definitely been renewed. Its renewal was reported by Variety, along with the bulk of Bravo's other long-running shows. The exact premiere date of the seventh season of RHOBH is unknown, though Variety describes it as set to premiere "later this year." That would track with its premiere dates of years past, which tended to be in the fall or later. For three years in a row, RHOBH started in early-to-mid November, though Season 6 premiered in December. Either way, it seems likely the seventh season will begin around the same time, late this year as Variety said in its initial report.
The next question is, who will be back for the show's next season?
Bravo hasn't made any official announcements yet, but certain Housewives prove themselves season after season to be big draws, and often a few OGs will always stick around no matter what. Lisa Vanderpump seems like a lock; not only is she fan favorite who is usually at the heart of the drama (the perfect combination for a Bravo star), but she also has her own spinoff, Vanderpump Rules. That's sure to leave her in good standing with Bravo; if she's not back, it could only be because she didn't want to return.
Kyle Richards also seems like a safe bet to return. As for the others, who knows? Lisa Rinna's dedication to furthering gossip makes her likely to return, and Eileen Davidson's reasonableness is a nice contrast to the other ladies. Newcomers Kathryn Edwards and Erika (Jayne) Girardi didn't necessarily make the hugest impact on their first go out, but Erika has that edge of glamour that makes her fun to watch even if she isn't driving the story. Yolanda Hadid is going through a lot in her personal life, so she's uncertain too, but since so much of Season 6's story revolved around her she might be back.
There's also the possibility of past cast members returning (cough Brandi cough) or new ladies entering the mix. Whoever does or doesn't return, Season 7 is sure to be just as crazy as every season that came before it.