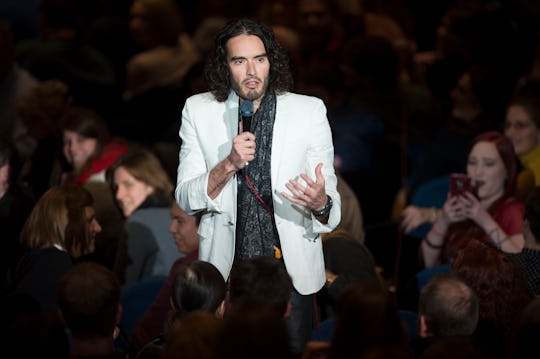 Thomas Lohnes/Getty Images Entertainment/Getty Images
When Is Russell Brand's Girlfriend Due? The Couple Are Expecting Their First
Something must be in the air in 2016, as it seems as if countless amounts of celebrities have announced their pregnancies this year. Now, there is one more celebrity's name to add to the baby watch. On Friday, People reported that the very hilarious and sometimes raunchy comedian and actor Russell Brand is expecting a baby with his on again, off again girlfriend. Which has me asking, when is Russell Brand's girlfriend due?
According to The Sun, Brand's girlfriend, Laura Gallacher, is five months pregnant and expecting a baby due this fall. This will be the first child for 40-year-old Brand and 27-year-old Gallacher, who have been dating on and off for quite some time.
Despite getting together last year, Brand and Gallacher have been on and off for quite some time. People reports that the couple first got together in 2007 and then rekindled their relationship in 2015. Now, they're expecting one on the way.
For those who are not from the United Kingdom you might be asking yourself, "who is Laura Gallacher?" — just like I did when I first heard the news of Gallacher's pregnancy. While Brand has starred in hilarious movies like Forgetting Sarah Marshall and Get Him To The Greek, Gallacher is a bit more unknown in the United States.
Gallacher is the daughter of Scottish professional golfer, Bernard Gallacher, and the sister of Scottish television presenter, Kirsty Gallacher. Bernard told The Daily Mail that he and his wife, Lesley, were "very happy" about the news. "Of course it's positive and we are very happy, but I'd rather not say anything about it now," Lesley told The Daily Mail.
While the couple seems to keep a relatively low profile, Laura was once the writer of her own blog, A Shuffle In The Pantry. In her blog's bio, Laura describes herself as "a lover of food & drink and general homemaking." The blog is still available to read online and documents Laura's love of food, drinks, and traveling adventures — it is pretty cute actually.
While you might remember Brand from his Netflix comedy special or his hilarious movies, you might also remember him as Katy Perry's ex-husband. The pair, that got married in October 2010 filed for divorce one year later in December 2011. Brand opened up to Howard Stern about his marriage with Perry, just two days after his divorce was finalized telling the radio show host, "I loved her so much, it seemed like the sensible thing to do [when we got married]...I loved her so much."
But it seems like Brand has found a new love in his relationship with Laura Gallacher, as they are reportedly expecting a child on the way and seem very very happy together.