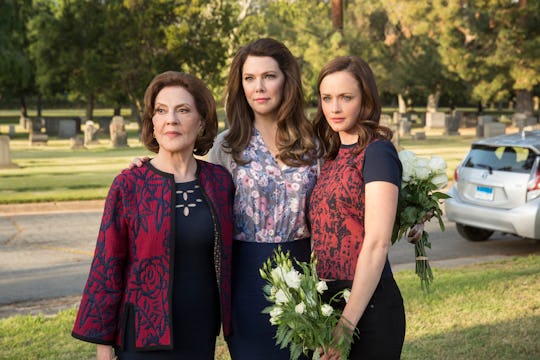 Robert Voets/Netflix
When is Season 2 Of The 'Gilmore Girls' Revival? There Is No Guarantee
Even though Netflix has only just released the long-awaited new episodes of Gilmore Girls: A Year In The Life, fans are already hungry for more. Reviving the show has made anything possible; if it was brought back once before, what's to stop it from coming back again and again? Considering how intensely anticipated the revival was, it would certainly be lucrative to revisit it again and fans would be thrilled to check in with Lorelai and Rory time and time again. So when is Season 2 of the Gilmore Girls revival?
Unfortunately, there's no confirmation that there will be a second season, let alone a possible date for release. Despite how well-received it's sure to be, there are all sorts of potential issues that could hang up the production of more episodes. Coordinating schedules is always an issue, as evidenced by the difficulties the show had in locking down Melissa McCarthy for even a day, and that could always interfere with future seasons. Netflix generally renews shows for a second season even if they're on the less popular end of the spectrum, but the same isn't always true for revivals. Arrested Development only saw one new season on Netflix, but even with all the buzz, the fan reaction was mixed.
However, things might be different with Gilmore Girls. The new episodes feel so much like slipping right back into the same rhythm as the old ones, a feeling shared by the cast. Lauren Graham has expressed her love of playing Lorelai and even told Entertainment Weekly that picking up the show again felt "inevitable." After what many deemed a disappointing final season of the original run, there was so much anticipation for the new episodes that fans are going to be delighted with what they get.
With Graham sure to be on board with playing Lorelai for years to come and fans always ready for more, the future of Gilmore Girls on Netflix could be assured – or at the very least it's possible that the show will be back for a Season 2. Both Amy Sherman-Palladino and Daniel Palladino have said that though the new episodes provide closure, the show will still be open-ended. In an interview with Vanity Fair, Palladino said there was no "neat wrap up" because the show is like life, which is messy. There's no closure with real life.
Without official confirmation it's impossible to say whether the show will be back for new episodes or not, but as for right now the outlook seems positive. Gilmore Girls is the kind of show that can be revisited any time because the joy is in seeing what Lorelai and Rory are up to, and there's always more ground to cover there.