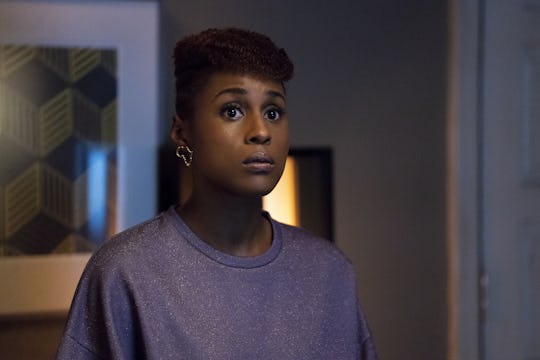 Merie W. Wallace/HBO
The Long-Awaited Season 3 Of 'Insecure' Is Almost Here
Issa Rae fans, rejoice: Insecure is finally back for another season. So when is Season 3 of Insecure? The newly Emmy nominated actress and show creator is picking up where she left off very soon.
Season 3 of Insecure begins on Sunday, August 12 at its usual time slot of 10:30PM. In case fans haven't already seen the trailer for new episodes, get excited. The show seems to pick up not exactly where things left off, so there's sure to be some catching up to do — and I can't wait. As a refresher, Season 2 began with Issa and Lawrence broken up; Issa was meeting guys through dating apps while Lawrence was dating a bank teller named Tasha (but only spending weekends with her). Molly, Issa's best friend, was still killing it at work and had started a therapist.
Throughout Season 2, Lawrence and Issa stayed in each other's periphery. Issa was working on her "ho-tation" (dating multiple people at once) while Lawrence was casually dating other people. At the same time, Issa rekindled her romance with Daniel, an old ex that was the reason she and Lawrence broke up in the first place. Meanwhile, Molly started sleeping with Dro, an old friend who was in an open relationship.
The finale of Insecure Season 2 covered a month of the lives of Issa, Molly, and Lawrence. Molly had been making moves in her career, but still sleeping with Dro. Lawrence's month ended with a long walk towards Issa's apartment. Issa's month shows her various work and life troubles. She calls Lawrence again to get his remaining stuff from their place. Lawrence and Issa's "month" converges when they're both in the apartment and finally have the ending they deserve. That's not before Issa imagines the life the two of them could've had, though, complete with a wedding and children.
In the Season 3 trailer, however, Issa is apparently living with Daniel, the guy she cheated on Lawrence with, and who has always been a part of the picture in one way or another. One figure is glaringly absent from this trailer, though: Lawrence. Lawrence fans will, unfortunately, be disappointed this season because Issa Rae said the show is taking a break from Lawrence. We want to stay as true to life as possible," Rae said at the Insecure Fest event in July. "They had a great conversation at the end of season two and it was just about like, hey, she's moving on Daniel, sometimes we have those conversations ... You never see the exes again. And it's okay! You gotta explore life without Lawrence."
Fans probably had an inkling of this when in April, Lawrence actor Jay Ellis said he hadn't filmed any scenes for this season. Well, I'm sure his stans are hoping for a surprise appearance this season but honestly, I don't know if it's going to happen. While it's going to be interesting to see how the show fares without him, I'm excited to see Issa move on. From the trailer alone this season looks like it's going to be a lot of fun, and I'm sure other Insecure fans agree with me.