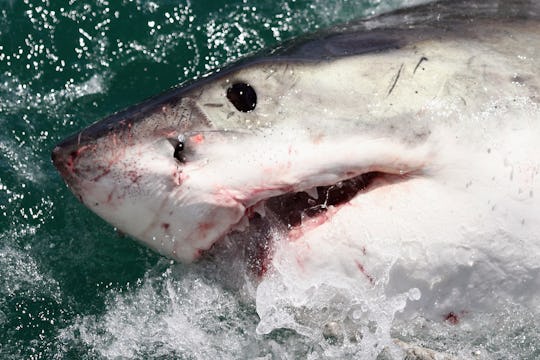 Dan Kitwood/Getty Images News/Getty Images
Shark Week Is Just Weeks Away So Cancel All Your Plans
Dah duh, dah duh, dah duh, here it comes — Shark Week! For those who base their summer vacation plans around this glorious week of shark-tastic shows, you're probably wondering when Shark Week 2018 is. It's heading your way soon people, so get your DVRs set. It's time to head into some shark-infested waters!
The Discovery Channel recently announced that this year's Shark Week will start on July 22 and run until July 29, featuring 19 hours of shark programming. To say that people are excited about the return of Shark Week is a bit of an understatement. A website aptly named whenissharkweek.com (though completely unaffiliated with Discovery) is counting down the days, hours, minutes, and even seconds until Shark Week begins! You'll also find some pretty epic Shark Week drinking games there too.
Perhaps people are extra pumped about Shark Week this year because it's the program's 30th anniversary. I know, it's hard to believe that Shark Week has been around that long. In honor of three decades of Shark Week entertainment, education, and general pop culture domination, Discovery brought in the big guns for its Shark Week promotional video — Shaquille O'Neal. Who better to hype Shark Week, aka Shaq Week, than Shaq? I'm not sure who is physically bigger — him or a great white? I'm sure a diehard Shark Week fan could tell me.
Last year, you'll remember that Michael Phelps, the most iconic swimmer of all time, was the star of the Shark Week promo videos. His race against a great white shark was billed as the premiere Shark Week event. However, many fans were outraged when the episode aired and Phelps raced against a computer-generated shark instead of a real one, according to Deadline.
While Phelps lost the race by only a couple of seconds, he did set one record. The Olympic athlete "averaged more than 5 million total viewers Sunday night, making it the highest-rated Shark Week special ever across key demographics," reported the Baltimore Sun. Yet the internet was not having any of it, with many fans claiming they were duped. One especially disappointed fan, @dgbillington, wrote, "I lost all faith in Shark Week after Michael Phelps didn't race a real shark."
The Discovery Channel defended its choice to use a CGI shark despite the intense backlash. "The show took smart science and technology to make the challenge more accessible and fun. All the promotion, interviews and the program itself made clear that the challenge wasn't a side by side race," Discovery said in a statement to Us Weekly.
It remains unclear if fans have moved on from the Phelps vs Shark fiasco.
One thing is for sure — the Discovery Channel is bringing the "shark n' awe" this year for its 30th anniversary. For Shark Week 2018, you can expect to see some big-time celebrities, like Rob Gronkowski, Aaron Rodgers, Lindsey Vonn, Bear Grylls, and the cast of Shark Tank, according to a statement put out by Discovery. I'm particularly looking forward to the episode that the Discovery Channel is calling, "Uncaged: Shark vs. Ronda Rousey," in which she "free dives uncaged" with a Mako shark in New Zealand. And from the looks of Aaron Rodgers' Instagram, he's a natural with sharks too.
If you can hardly wait until the shark fun begins, there are a few ways to get your fill of sharks leading up to the main event. Watch Blake Lively's summer thriller from 2016, The Shallows, to see her battle a great white, or go way back in the movie cannon and watch Jaws. You might just find yourself humming the Jaws theme song ever day until Shark Week begins.