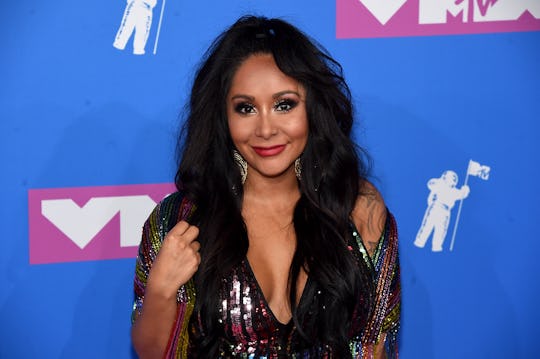 Jamie McCarthy/Getty Images Entertainment/Getty Images
When Is Snooki Due? The 'Jersey Shore' Star Is Expecting Her Third Child
Guys, Snooki is going to be a mom — again! Nicole "Snooki" Polizzi announced the big news via Instagram on Thursday, Nov. 22. However, she didn't yet offer many details surrounding this pregnancy. So dedicated fans are probably dying to know: When is Snooki due? Because the Jersey Shore star is expecting her third child.
On Thanksgiving Day, Polizzi shared a couple of photos of her two children — Lorenzo, 6, and Giovanna, 4, whom she shares with her husband Jionni LaValle — holding a sonogram. The first black-and-white picture is a sweet shot of Lorenzo, with his arm wrapped around Giovanna, as they hold a framed sonogram. The second shot, which is in color, features the siblings comically lamenting over the fact that another little one is on the way. As People reported, the expecting mom captioned the post with, "What I'm thankful for this Thanksgiving ❤️ 🙏🏽 #family."
Snooki's followers promptly exploded with words of well-wishes — and plenty of heart emojis, exclamation points, and all-caps writing, to boot.
One Instagram user wrote, "CONGRATULATIONS 🎉🍾 Snooki!!!!!!! YAY!!!!!!!💖💖💖."
Another follower commented, "OH MY GOD CONGRATS 😍💙 🎉."
Yet another Instagram follower chimed in with, "So happy for you and your expanding beautiful family!!💙💙💜💜💗."
So when is Snooki's due date, you ask? Although it's difficult to tell for sure at this point — because again, she didn't volunteer this information in her announcement — it shouldn't be too hard to come up with a rough estimate. That's because Polizzi has remained open about the fact that she and her husband had been actively trying to add another little meatball to their family. She revealed that baby number three was already in the works while making an appearance at the MTV Video Music Awards in August. "I'm trying now," Polizzi told Entertainment Tonight. "I'm practicing now. It's going good. I'm not pregnant yet but, I mean, we've been practicing for a month now so…"
At the beginning of October, Polizzi offered an update on their baby-making endeavor. "We've actually been trying for two months now and it's not happening," she told Us Weekly. "So I'm just gonna relax. If it happens, it happens." She went on to say:
I don't know what's wrong. Maybe I'm stressed or I'm just working [too much]. My schedule's too hectic. On set I took a pregnancy test every day. Then I'd have a glass of wine.
Considering Snooki wasn't pregnant at the beginning of October — at least as far as she knew — conception likely happened sometime within past six weeks or so. Just for funsies, let's just say she's six weeks along right now. That would put her due date in mid-July. So I think it's safe to assume Polizzi and LaValle will be welcoming a summer 2019 baby! You know, unless she was just trying to throw fans off this whole time leading up to the big reveal. (Which is totally a possibility.)
While I can't say with 100-percent certainty when baby number three will be arriving, in all likelihood Snooki probably has a summer due date. But never fear; I have a feeling it won't be too long before the reality star starts sharing weekly bump photos via Instagram. Then, we'll all know for sure. In the meantime — congrats to Polizzi and LaValle on their exciting news!
This first-time mom wants to have a home birth, but is she ready? Watch how a doula supports a military mom who's determined to have a home birth in Episode One of Romper's Doula Diaries, Season Two, below. Visit Bustle Digital Group's YouTube page for the next three episodes, launching every Monday starting November 26.