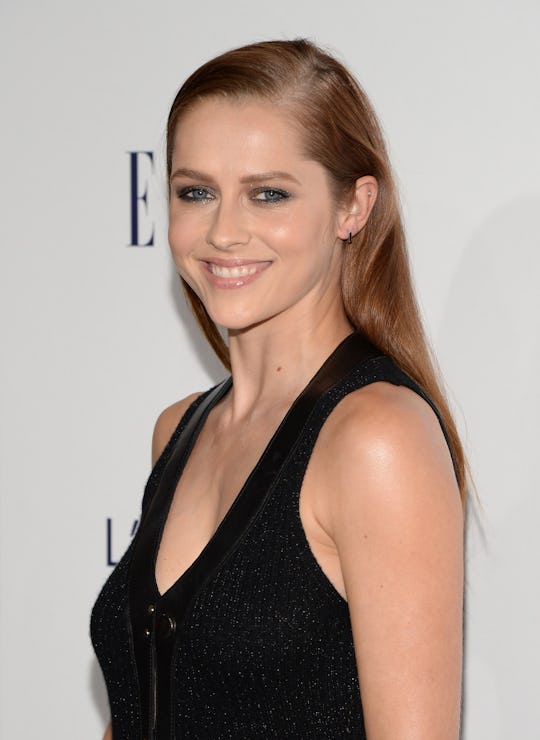 Michael Kovac/Getty Images Entertainment/Getty Images
When Is Teresa Palmer Due? She's Pregnant With Her Second Child
Australian actor Teresa Palmer is pregnant with her second child. She and husband Mark Webber announced the news on Instagram Friday, but when is Teresa Palmer due? Though nine months from the date of her post would suggest a due date around March 2017, it's possible Palmer's hinted at pregnancy since December.
In a 2015 video, Palmer said she faced an "unexpected and beautiful challenge" that she'd detail to fans in the new year; she mentioned her hope to have another baby, which The Daily Mail interpreted to mean her "challenge" was a pregnancy. The actor described the challenge as "Really unexpected, totally out of the blue," adding:
It's beautiful. I mean, the first few days I was like, what is happening? and now I'm in a place of real acceptance and openness and just allowing feelings and emotions to come, and without judgment and without fear.
It's still unclear whether Palmer's reflection referenced her pregnancy; if so, it's possible her baby is due closer to fall 2016. Based on her pregnancy announcement, Palmer seems to be overjoyed by the thought of growing her family. The actor posted a photo on Instagram of Webber and son, Bodhi, appearing to lean in to kiss her belly, E! News reported. And she captioned the snapshot, "And just like that my heart grew bigger. Welcoming baby number 2 in to the family. Can't believe our little Bodhi is going to be a big brother!"
Webber posted his own version of the Instagram pregnancy announcement, according to POPSUGAR. The image shows Palmer standing in the water holding her belly; Webber captioned it, "There's a baby in there."
Palmer appears to love being a mom. In Palmer's Elle Australia interview (featured in the February 2016 issue), the actor said she hopes to have six kids. She told the magazine that she prioritizes family over filming: "I've really made a point of saying I'm the sort of parent who wants to be with my son." Palmer developed a close relationship with her first child, Bodhi; she even caused controversy by continuing to breastfeed him after his second birthday, The Daily Mail reported. Though some fans praised her, others questioned the appropriateness of the decision. Palmer responded, arguing that society's impetus to stop breastfeeding after infancy is a social construct, and that there are real health benefits to breastfeeding for as long as possible. She wrote, "As a woman who is lucky enough to be able to breastfeed this long I'm grateful that I can provide my son with this kind of loving care."
Though she's having a second child, Palmer doesn't seem to be slowing down. Three of Palmer's 2016 projects already premiered, according to IMDb: The Choice, Too Legit, and Triple 9. Five other projects are either completed or in post-production, including 2:22, Berlin Syndrome, Hacksaw Ridge, Lights Out, and Message from the King. 2016 is definitely a big year for Palmer.