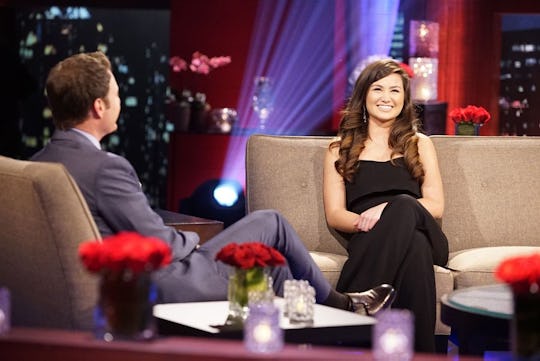 Kelsey McNeal/ABC
When Is The 2016 'Bachelorette' Announced? Fans May Need To Hold Off For The Official Announcement
Bachelor fans received some big news recently when Us Weekly reported that Caila Quinn is the 2016 Bachelorette after being heartbroken in Jamaica by our current Bachelor Ben Higgins. The report came as a surprise to many, since it's pretty early to have a name out there for the next season. While nothing has been officially announced, the idea that Caila's name is out there will help the show gauge public reaction to the announcement. (Your words could potentially change the fate of the future Bachelorette.) ABC had no comment when contacted about the official announcement date for the next Bachelorette.
According to Us Weekly, Caila was spotted in Ohio on March 4 filming her "Bachelorette intro package." While that hasn't been confirmed by ABC, it could be a way to sense how the public feels about her being the next Bachelorette. Although it is earlier than usual for the next lead in the Bachelor or Bachelorette to be named, it isn't that far off the course from past seasons.
Before Ben Higgins was named The Bachelor, multiple names were thrown out as contenders (one of them being Nick Viall, which I'm still not completely opposed to). It took an entire month after The Bachelorette finished airing until ABC officially announced Ben as their front man for the upcoming season. While there was a ton of speculation that Ben was going to be the next Bachelor — rightfully so, since he's the Perfect Ben — until the words were said by ABC, nothing was official.
Unlike the long and anguishing wait to learn that Ben was the Bachelor this season, ABC was quicker to announce the two Bachelorettes twist for Kaitlyn Bristowe's season of The Bachelorette. Britt and Kaitlyn were both announced as the two women fighting for the role of the Bachelorette in Season 11 at the "After the Final Rose" episode of Chris Soules' season of The Bachelor, which isn't that far off for viewers who are hoping they follow the same timeline. If ABC decides to follow that timeline, we could get the official Bachelorette announcement as soon as the finale. Then again, ABC could keep up on pins and needles for as long as they'd like.