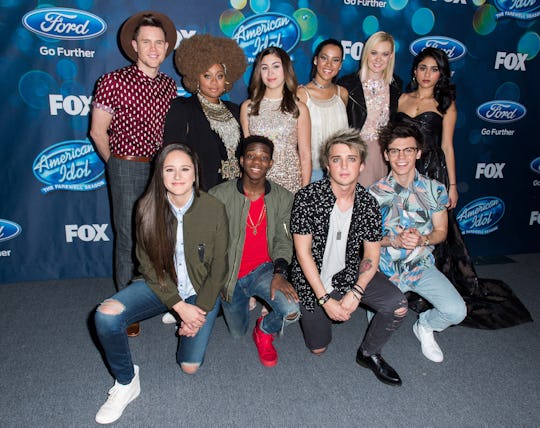 Emma McIntyre/Getty Images Entertainment/Getty Images
When Is The 'American Idol' Season Finale? It's The End Of An Era
When American Idol ends this year, it'll be the end of an era. This is the last season of the singing competition that made Kelly Clarkson, Carrie Underwood, and Scotty McCreery famous. (Go ahead and cry now.) But when exactly is the American Idol season finale? If you're a diehard fan, you'll definitely want to get your pen out and mark your calendar.
Turns out American Idol's finale will be broadcast in three parts. (Though the season is shorter, the finale is longer, reasoned Billboard.) On Tuesday, April 5, fans will get all of the nostalgia they can handle with the premiere of American Idol: American Dream, a retrospective sure to provide a reminder of the kooky auditions and heart-stopping performances that have made the show a must-see for more than a decade. Contestants compete for the last time on Wednesday, April 6 at 8 p.m., and the last winner will be revealed on Thursday, April 7 at 8 p.m. The finale is often packed with performances from current contestants with the performers they love, but it'll have new meaning now that it's the final episode of American Idol.
Though there are plenty of show elements that haven't changed, American Idol evolved significantly since its premiere. The biggest change: Harry Connick Jr., Jennifer Lopez, and Keith Urban now hold the roles of original judges Paula Abdul, Simon Cowell, and Randy Jackson. Rules, locations, and themes have shifted through the years, but the show still does what it does best: make singers' dreams come true.
Currently, the show is down to the final five in its final season (spoilers ahead). The remaining American Idol contestants will need to battle it out in two rounds if they want to make it all the way to the end, according to Entertainment Weekly. In last week's episode, MacKenzie Bourg, Trent Harmon, Tristan McIntosh, Dalton Rapattoni, La'Porsha Renae, and Sonika Vaid each performed two songs before McIntosh was, unfortunately, eliminated. That left two American Idol finalists from Mississippi, one from Louisiana, one from Massachusetts, and one from Texas, according to the show's website.
Though normally this would be the most exciting time in the season, each episode closer to the finale brings fans one step closer to staying goodbye — and for devoted fans, that part isn't so fun. Judge Lopez told The Independent in January that it would be hard to watch American Idol's final episodes. "I have mixed feelings to it ending," Lopez explained. "It's a big celebration, but it's melancholy at the same time." Fans seem to feel the same way, with one follower tweeting on Monday, "I'm so sad that American Idol is ending soon, it seems like this season has gone by way too fast."
Luckily, the big goodbye is still a few weeks off. In the meantime, Ryan Seacrest will continue to introduce the country to some of its most talented, and America will get to make a few more Idol memories.