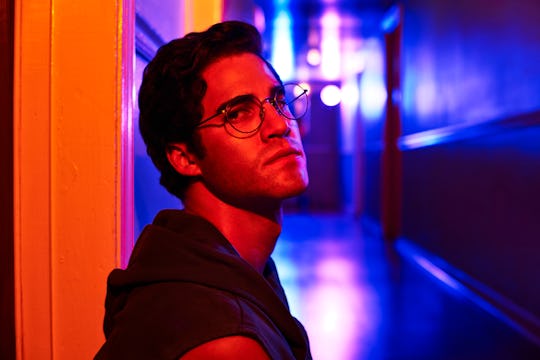 Pari Dukovic/FX
'The Assassination Of Gianni Versace' Finale Will Be Here Sooner Than You May Think
There are only three episodes left of The Assassination of Gianni Versace. In nine episodes total, the show delved into the life of spree killer Andrew Cunanan, working in reverse to take the audience deeper and deeper into a story that they might have only known the final chapter of at first. But when is the finale of The Assassination of Gianni Versace? How long until Andrew Cunanan's story reaches its conclusion?
It doesn't look like there will be any more breaks for the rest of the season, so the last three episodes will air over the next three weeks as planned: "Ascent" on March 7, "Creator/Destroyer" on March 14, and the finale, "Alone," on March 21. Little is known about how Episode 9 will play out exactly, but its title is certainly ominous. Directed by Daniel Minahan (who was also responsible for "House by the Lake" and "Don't Ask Don't Tell" earlier in the season) and written by Tom Rob Smith (who penned every episode), it's sure to be a haunting end to the horrifying events depicted on the show.
Despite not having much information on how the finale of Versace will unfold, it's possible the episode's title might provide some clues, as will the real story that inspired the show in the first place.
According to its summary, "Ascent" will explore Cunanan's family further as he leaves them behind to move in with Norman Blachford and pursue a life of luxury elsewhere. The Versaces will also re-enter the picture as Donatella figures out her place in their fashion empire. The episode that follows, "Creator/Destroyer," goes back even farther in time, back into the childhoods of Cunanan and Versace, its two central characters.
Throughout the season, Cunanan and Versace have been presented as opposing figures. Though Cunanan could have had potential, he ruined all his opportunities and turned his anger on the people around him. He destroyed everything and everyone in his path, whereas Versace worked hard to create an indelible and lasting legacy. The title of Episode 8 indicates that it will tackle that season-long theme more explicitly. But after addressing that and turning back the clock farther than ever before, what will be left for the finale?
Versace opened with the murder that lent the show its title, but after showing the immediate aftermath of Versace's death it shifted to the crimes that preceded it. Audiences didn't see what happened to Cunanan or find out whether police were able to capture him. It seems fair to assume that "Alone" will finally pick up with the manhunt for Cunanan again, and bring everything to a close. Spoilers ahead regarding real events that happened 20 years ago.
After killing Versace, Cunanan stayed in Miami, which wasn't his M.O. up until that point. Generally he would commit a murder and then depart to a new state, so the police hadn't expected him to linger. He broke into a houseboat and hid out, but when its caretaker almost stumbled upon him, Cunanan took one last, drastic action. Just a week after Versace's death, Cunanan shot himself in the head.
The Assassination of Gianni Versace has shown how Cunanan pushed everyone in his life away with his actions even as he tried (often through manipulative or outright violent methods) to keep them close. In many ways, he was already alone before he began his nationwide spree, but by the time Versace was dead, Cunanan had made those feelings of loneliness and isolation a reality. He had nothing left, and it was all of his own doing.
However, even if audiences have a general idea of what will happen in the finale, it's practically a guarantee that the show will infuse the events with meaning and pathos. It's an episode that shouldn't be missed.
Check out Romper's new video series, Romper's Doula Diaries:
Watch full episodes of Romper's Doula Diaries on Facebook Watch.