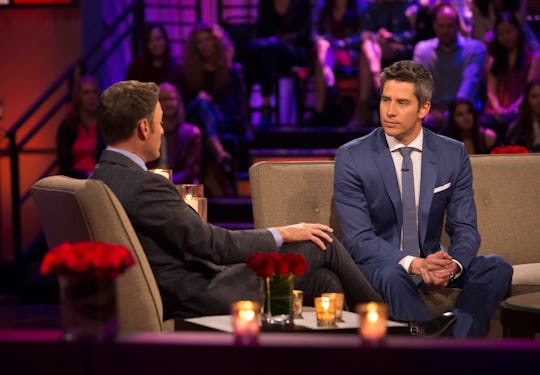 Paul Hebert/ABC
Mark Your Calendars: This Is When Arie's 'Bachelor' Season Comes To An End
It's almost unbelievable that The Bachelor is up to fantasy suite dates. It feels like the season just started, but it's ending pretty soon, which means many of you may be wondering: when is The Bachelor finale? Arie's season is coming to a close in just a few short weeks.
I've started to measure time based on Bachelor franchise shows since they're so pervasive throughout the year, and this is just a testament to how fast 2018 is going. The premiere, which seems like forever ago, was New Year's Day. Everyone was so bright-eyed and eager to win over Arie's heart... Bachelor Nation didn't know that Krystal would be the villain yet or that Bekah's age would be such a "thing." But now, sadly, viewers must accept that it's almost time to hand out that final rose.
The Bachelor finale is March 5, according to The Hollywood Reporter. However, there could be a slight change-up to how things usually work this season. If you look at the listings on TVGuide.com, you'll noticed that the finale on March 5 is only listed as being on for two hours. Normally the After the Final Rose special airs immediately afterward, and yet now it seems nowhere to be found. Since I can't believe we're just not getting one this year, I'm assuming perhaps there's too much to cover for it to be on for just one hour. Perhaps it'll air sometime later in the week, so we'll just have to stay tuned and see what Chris Harrison tells us when the time comes.
According to Harrison, The Bachelor finale will be "phenomenal": "If you are a critic of Arie's season, I would tell you to wait. Just wait," he told THR, "and prepare to have your mind blown. It will be a phenomenal finish. If there are critics out there, then trust that it's going to be phenomenal." Bachelor co-showrunner Bennett Graebner echoed his statements in his own interview with THR and implied the finale may have the worst breakup in Bachelor history. "I've worked on the show for 10 years. The finale will be something people haven't seen before," Graebner told the outlet. "And even if they are reading spoilers and think they know? They don't know."
Wow. I know that some people are saying this is the most boring season of The Bachelor ever, so I'm not sure if that's just what execs are responding to and want to spread rumors that the finale will make up for trudging through this less than exciting season. I gotta say, I feel a little bad for Arie. Some viewers wanted Peter Kraus to be The Bachelor, so they were against him from the start. Ratings this season were down, which means the bad vibes actually did translate to numbers as well. Arie has been criticized for being too old and too boring, but producers insist this finale is one for the ages (no pun intended).
I'm definitely looking forward to the finale after reading what producers have to say. Hopefully they're not leading us on, but even if they are there's something to be excited about afterwards: the announcement of next season's Bachelorette. Last year they announced Rachel was the Bachelorette while she was still on the show (so, before the fantasy suite), which hasn't been the case this year. There are so many amazing women from this season and I'm excited to see who producers choose. Until then, I'll be waiting to see who Arie chooses to give that Neil Lane ring to when the finale airs on March 5.
Check out Romper's new video series, Romper's Doula Diaries:
Watch full episodes of Romper's Doula Diaries on Facebook Watch.