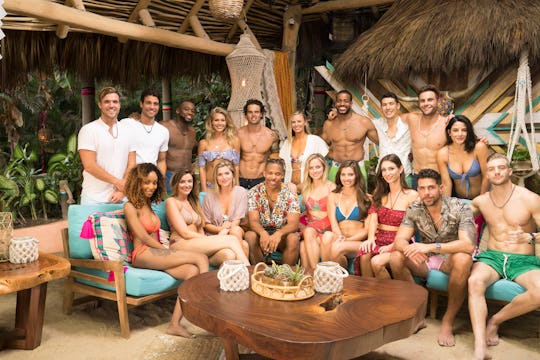 Paul Hebert/ABC
The 'Bachelor In Paradise' Finale Is Closer Than You Think, So Get Ready
For fans of Bachelor in Paradise, the short summer seasons never seem long enough. For almost two months, fans have been able to watch their favorite Bachelor and Bachelorette hopefuls look for love on a tropical Mexican beach resort. The romance and drama is in full swing, but unfortunately paradise can't last forever. So exactly when is the Bachelor In Paradise finale? According to the trailer, it is going to come with some dramatic revelations and twists.
Bachelor in Paradise will end its fifth season with two episodes — a final paradise episode on Monday, Sept. 10 and a reunion special on Tuesday, Sept. 12. The promo promises that the finale will bring some unexpected tears and surprises, and it will be interesting to see which couples were strong enough to make it through to the end. With success stories like Evan and Carly, Jade and Tanner, and most recently Jared and Ashley, I'm hoping at least one couple ends with an engagement this season.
Of the couples so far, Astrid and Kevin seem to be one of the strongest. However, in the trailer for the finale, Kevin is seen sobbing, which may hint there's trouble in paradise. But in a confessional, Astrid says that she loves Kevin, and wouldn't say no if he proposed. The producers always edit the promos in a way to throw you off, so as a fan of the two, I really hope that they can make it through to the end.
Another strong couple is Chris and Krystal, and even though Chris said and did some shady things to Tia earlier in the season, he seems to be really taken with Krystal. "Like, I'm happy, but it's just like so scary," Krystal says as you see her walk upto Chris, who is standing on the traditional paradise proposal stage with a grave look on his face. It's hard to tell what will come of their relationship, but I really hope he doesn't break her heart.
Many fans have had mixed feelings about another solid couple in paradise — Grocery Store Joe and Kendall. Fans have had Joe's back since Becca dropped him on the first episode of the Bachelorette, so when Kendall left him behind to go on a date with Leo, they took to Twitter with their frustrations:
But after the couple got closer during their babysitting date on the September 4th episode, fans relaxed a little, hoping that Joe had finally found love:
But in the promo for the finale, it looks like Joe must have revealed something about his past that upset Kendall. "This is stuff that he like never told me before so I don't know how to take it," she tells Astrid through tears. And then in a clip from an interview, she is seen crying, exclaiming "it's so hard," and making fans wonder what exactly happened between the two.
While the finale will feature the final moments of the contestants time in paradise, including any engagements or breakups, the real drama will come to a head during the reunion special. In separate interviews with Extra TV, some contestants talked about how things went down during the reunion. "The reunion was good, it seemed like there was a little bit of fire going on, and tears, lots of tears," Chris told the outlet. Jordan also chimed in on the reunion, telling Extra TV that it was "amazing" and filled with "unexpected drama," adding that there were some major revelations that the didn't even know about.
With all the emotional investment fans have put into the last two months of Bachelor In Paradise, hopefully the finale will bring some closure to their favorite love stories. The final two episodes air on Monday, September 10 and Tuesday, September 11 at 8 p.m. ET on ABC.