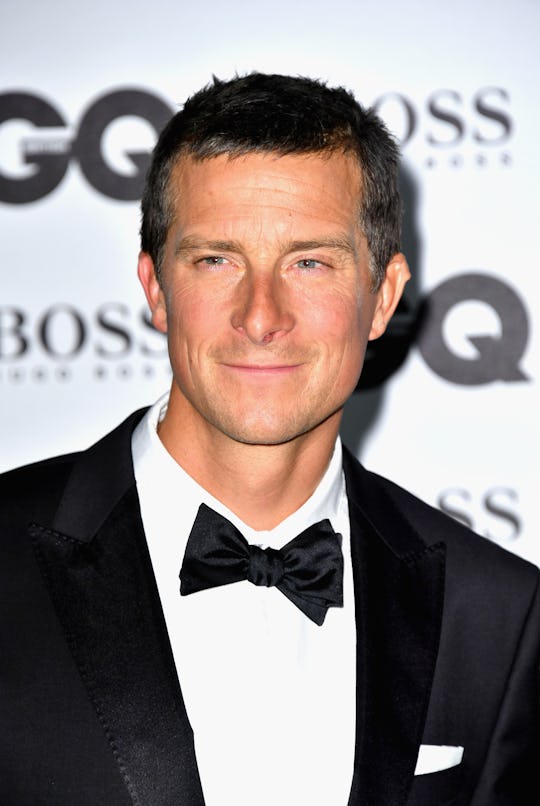 Gareth Cattermole/Getty Images Entertainment/Getty Images
Bear Grylls Will Swim With Sharks In New Shark Week Special
It's the best time of the year! Shark Week is finally back and it's the 30th anniversary, which means this will probably be the greatest Shark Week to date. In honor of the special anniversary, Discovery Channel has locked in 13 specials for the week long event. One of those specials will include survivalist Bear Grylls who will come face-to-face with a shark. So when is the Grylls Shark Week special? Thankfully you won't have to wait long.
The special, titled Bear vs Shark, is set to air on Sunday, July 22 at 8 p.m. ET on the Discovery Channel. It's an hour long episode in which Grylls will partner with a shark expert to learn how to safely swim with sharks, tag sharks for tracking and study, and free them from nets and hooks. Grylls will also test a theory that could change the way humans interact with sharks.
Here's the full network description from Entertainment Weekly:
"Back on Discovery for the 30th anniversary of Shark Week, Bear Grylls has survived the most extreme environments, from the frozen peaks of Everest to blazing sands of the Sahara Desert, but what will happen when he goes head to head with sharks when they have the home field advantage? It will be his greatest test of wits and skill as the ultimate survivor faces off with the ocean's apex predator: Bear versus Shark."
Along with Grylls' special, there 12 other specials that you'll definitely want to see. These specials will include a number of notable athletes and celebrities including Ronda Rousey, Aaron Rodgers, Lindsey Vonn, and Rob Gronkowski. Rousey will free dive with a Mako shark while athletes Rodgers, Vonn, and Gronkowski will receive a fast education from shark scientists.
One special many people are looking forward to this year is Shark Tank Meets Shark Week. This special is exactly what it sounds like. The "sharks" from Shark Tank, Barbara Corcoran, Mark Cuban, Daymond John, and Kevin O'Leary, will each be paired with an oceanic organization to uncover the issues they're facing, discovering threats of habitat destruction, overfishing, bycatch, and more. Then, the sharks, along with fellow shark Robert Herjavec, will pitch each other on why their organization deserves the big prize, which is a $50,000 donation to the shark-saving cause. Then, each shark will cast their vote for the organization they think is the most deserving, though they'll be unable to vote for their own.
Besides all the celebs, Shark Week will also take viewers to the "waters off of Cuba for a special about the search for massive sharks, to the shores of South Africa to explore how great white sharks are being wiped out by orcas, and to the Bahamas to learn about the secret lives of bull and hammerhead sharks," according to Entertainment Weekly. Thus, there is plenty too look forward to with this year's edition of Shark Week.
This year Shark Week will run from July 22 to 29, making the event eight days long, so a little more than just a week. The event is certainly the Discovery Channel's biggest week of programming and fans are already excited for Shark Week to begin. And if you're worried about what you'll do once Shark Week comes to an end, never fear. Sharknado Week is just around the corner.
Since 2014, SyFy has held a week-long celebration called Sharknado Week, based on their hit movie, Sharknado, which has gone on to spawn a number of sequels. Though SyFy hasn't officially announced Sharknado Week 2018, the sixth and final Sharknado film is set to premiere in August. So if you're obsessed with sharks, you still have plenty of shark content to look forward to this summer.