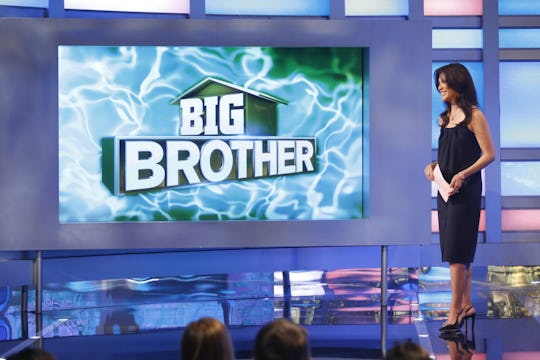 Sonja Flemming/CBS
The 'Big Brother' Season 20 Finale Is Almost Here & It's Sure To Be Wild
You know summer's over when you have to watch your favorite houseguests pack up to leave the Big Brother house. For months you have been watching them do everything from fight to brush their teeth, all while they strategically vie for the $500,000 grand prize. With only a few contestants left, it's almost time to announce the winner. So when is the Big Brother 20 season finale? Because you won't want to miss out on the excitement.
The Big Brother 20 will air its 90-minute finale on Wednesday, Sept. 26 at 9:30 p.m ET on CBS. If you forget to set your DVR or happen to miss the episode, you should be able to watch it on CBS All Access the next day. Until the finale, you can keep rooting for your favorite contestant to win, but as of now, it doesn't look like there's a clear frontrunner.
Kaycee Clarke may be the new Head of Household, but she's narrowly escaped eviction a few times already. But with the ball in her court next week, she may be nominating Sam Bledsoe and Haleigh Broucher for eviction, a move she has already strategized with her Level Six allies. During the overnight live feeds (which you can access through CBS Live Access), Kaycee discussed the details of her plans while walking through the conversations she will have with each of the nominees.
But the Level Six alliance is not ready to reveal the fact they are still actively plotting together. Kaycee, with some help from Tyler Crispen, is going to be giving Sam and Haleigh obscure reasons as to why she is nominating them. In the live feeds, Kaycee revealed that she will be telling Sam that he's on the chopping block because of his two votes against the house. She is planning on telling Haleigh, who nominated Kaycee as the Big Brother Hacker, that this nomination is just retribution.
Fans have been keeping an eye on the Level Six Alliance, and they have been taking to Twitter to voice their differing opinions on the group's strategies:
But with such a strong group in the house, things can go any which way. So far, Tyler seems to be trying to pull the strings, and he's been the one telling Kaycee how to divulge things. He gave her cues on how to talk to Sam, and to tell him he would was just being used as a pawn. He also told Kaycee to keep quiet about who the Nomination Ceremony target is going to be.
But despite being nominated for eviction, if Haleigh can somehow land the Power of Veto, she may be safe. If this does happen, there is a chance that Sam has to pack his bags, with the possibility of JC Mounduix coming in as a replacement nominee. In a scenario like this, the Level Six alliance will have more reason and motivation to win the Power of Veto Competition next week.
In a game like Big Brother 20, the circumstances change week to week, with power shifting every day. There are so many evolving mind games and strategies continuously at play, it is almost impossible to pinpoint who will make it to the end. After all, there is a huge cash prize waiting for the winner, so the house guests will do anything they can to win. So until the Sept. 26 finale, fans will just have to sit tight and watch the Big Brother drama unfold.
Big Brother 20 airs new episodes on Sundays and Wednesdays at 8 p.m. ET and Thursdays at 9 p.m. ET on CBS.