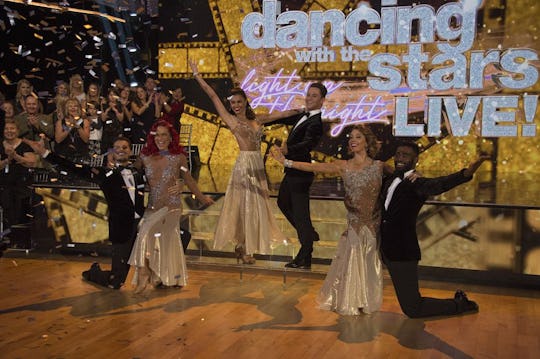 Eric McCandless/ABC
The 'DWTS' Season 25 Finale Will Be Here Before You Know It
The competition is getting a little more serious on Dancing with the Stars these days and pretty soon here someone is going to be crowned champion and take home that Mirror Ball Trophy. So when is the Dancing with the Stars Season 25 finale? I haven't been able to find a specific date, but based on previous seasons and how the show generally works, I can make a pretty good educated guess.
The Halloween Night episode of Season 25 of Dancing with the Stars comes during Week 8, after which there will still be seven dancers left in the competition and likely about three weeks left in the competition. So I'm guessing that we're going to get some double evictions in the next couple of episodes. Now that everyone is officially bringing their A-game (I'm even starting to find Terrell Owens charming), it's going to start getting harder and harder to say goodbye to people each week. In Season 23, the season ended with an elimination on a Monday, followed by the final three dancers competing in the finale, which took place on Tuesday, just a few days before Thanksgiving and the official start of the holiday season. It would make sense if this was the case for Season 25 as well.
Since Dancing with the Stars lasts for 10 weeks, it is pretty safe to assume that Season 25 will follow suit. The tenth week of competition will begin on the Nov. 20. In Season 23, Jana Kramer was eliminated on Monday, Nov. 21, while the final three competitors faced off the next day on Tuesday for the finale, with gymnast Laurie Hernandez eventually taking hope the Mirror Ball Trophy. Assuming that things work the same way this year, it would make sense that on Nov. 20, the fourth place star will be eliminated. Then the finale will be on Tuesday, Nov. 21.
Of course, this is just my own speculation based on what I already know about this show. They do like to change things up every so often just to keep audiences on their toes, but in general you can pretty much expect what you're going to get from Dancing with the Stars. Usually the show ends before the holidays, after which comes The Bachelor.
And because Dancing with the Stars is usually pretty easy to predict, I think I already know who the final contestants are going to be. Clearly Jordan Fisher and Lindsey Sterling are this year's front-runners, having both already earned perfect scores from the judges. Who the third contestant ends up being is slightly more difficult to judge, but I'm going to go ahead and predict that Vanessa Lachey is going to be the third contestant. She was a surprising star at the beginning of the season — coming strong right out of the gate. Sure, she's lost momentum in the past few weeks, but she hasn't yet been in jeopardy. I would say Frankie Muniz has a good shot at going all the way, but he has been jeopardy a few times so far, just barely escaping elimination.
So sure, I can't say with certainty how this whole show is going to end. But Dancing with the Stars tends to stick to the same routine every year with comforting familiarity. And in this wild world of ours when basically nothing seems normal anymore, it is kind of nice to know that at the very least I can always count on Dancing with the Stars.
Watch Romper's new video series, Romper's Doula Diaries:
Check out the entire Romper's Doula Diaries series and other videos on Facebook and the Bustle app across Apple TV, Roku, and Amazon Fire TV.