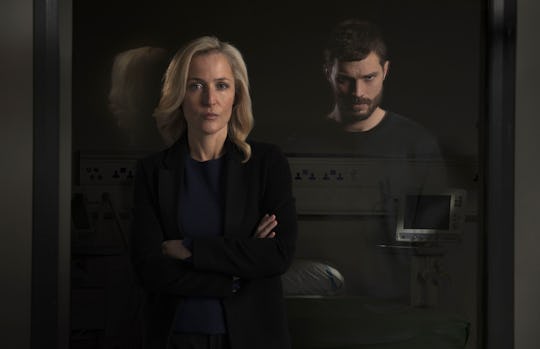 Des Willie/Netflix
When Is 'The Fall' Season 4? A Renewal Is Still Possible
After three wildly successful seasons, BBC's stylish and darkly engrossing crime drama The Fall is about to come to a close with a final match up between Jamie Dornan's eerily sexy Paul Spector, and Gillian Anderson's Stella Gibson. But as we ready our Netflix accounts to watch the highly anticipated third installment — which debuts on the streaming service Saturday, Oct. 29 — fans are already eager to know: will The Fall be renewed for a Season 4? It's definitely a possibility, but it won't come back exactly as you might remember it.
According to an interview with Digital Spy, series creator Allan Cubitt would definitely be interested in doing more of the show and continuing it for a fourth season, but lead actor Jamie Dornan will definitely not be returning as part of the narrative. Cubitt told the site, "I don't think I'm giving much away in saying it's Jamie's last season. But that's not to say that we wouldn't do more of The Fall." Say it ain't so! What would The Fall even look like without Dornan?
Luckily, Anderson is such a strong and powerful actor that she could undoubtedly carry the series by herself, but it would be quite a different show without the creepy yet alluring Dornan as Spector. And if Spector is gone, there's no reason for the show to continue on in Belfast, Ireland, which has been the consistent gloomy backdrop of the show. Regardless, even if we are blessed with another season of Stella Gibson hunting a sadistic serial killer, it won't be happening for some time.
Cubitt continued on to say, "I do have some thoughts," regarding a possible fourth season of the series, "but I'm quite keen on doing other things as well, so it's not going to be straight away." At the very least, this means that once the story of Spector is wrapped up, we'll be waiting for quite some time before we get any sort of reprisal. But it still sounds like it's a definite possibility at some point in the future.
And thinking positively, without Spector, this opens up a whole new world of possibilities for the show, moving forward. Perhaps series four will take place in a different place, like Glasgow, Scotland or a big city like London or even New York. We'll just have to wait and see. But at least we can head into the third season with the knowledge that there could still be more to come.