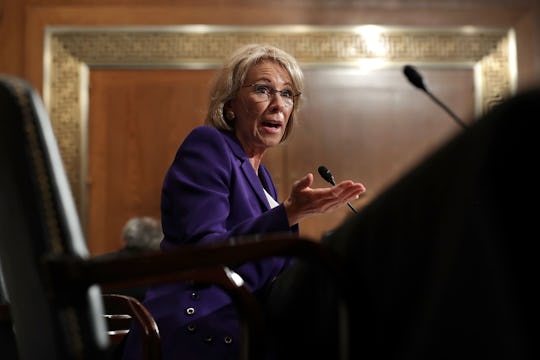 Chip Somodevilla/Getty Images News/Getty Images
Senators Are Holding Up Betsy DeVos' Confirmation
None of President Donald Trump's Cabinet nominations is more contested than his pick for Department of Education secretary, Betsy DeVos. She has no experience as an educator, and her background has mostly been in advocating for charter schools. Efforts to keep DeVos from being voted in have been strong, and now senate Democrats are making one final push. Democrats are holding the floor, but when is the final vote on Betsy DeVos for education secretary?
The vote for whether DeVos will become our next education secretary was supposed to have already happened. The Hill reported that the vote was scheduled for Friday at 6:30 in the morning. The reason the vote was scheduled for so early was because Democrats want to draw as much attention as possible to the vote in an attempt to block DeVos from being confirmed, The Hill reported. Instead, the vote should be finished around noon on Tuesday, according to Politico.
The vote is set to be as much of a nail-biter as the Patriots and the Falcons going into overtime at the Super Bowl. That's because all 50 Democrats have agreed not to vote for DeVos, while of the 52 Republicans in Senate, two have stated they will not vote for her. That means the vote could be a tie, and if that happens, the deciding vote goes to Vice President Mike Pence.
If it does come down to a tie, Pence has unsurprisingly announced he will vote to make DeVos education secretary. "We're very confident that Betsy DeVos is going to be the next secretary of education, and it'll be my high honor to cast the deciding vote on the floor of the Senate next week," Pence said on Fox News Sunday. But Democratic senators are trying to keep that from happening. They are holding the floor of the chamber in order to convince another Republican senator not to vote DeVos in.
"Democrats will hold the floor for the next 24 hours, until the final vote, to do everything we can to persuade just one more Republican to join us," Washington Sen. Patty Murray of Washington told CNN. "And I strongly encourage people across the country to join us — to double down on your advocacy — and to keep making your voices heard for these last 24 hours."
New York Sen. Chuck Schumer emphasized why the 24 hours of speeches against DeVos is important: "Her views are extreme," Schumer said in a statement. "She seems to constantly demean the main purpose of her job, public education."
And it's not just Democratic senators putting pressure on Republicans: the public outcry at DeVos potentially becoming head of the Department of Education has been huge.
DeVos' lack of experience within the public school system is a dealbreaker for many, because 90 percent of kids attend public schools. And her lack of understanding about measuring test scores, the Disabilities Education Act, and her refusal to say that she'll hold public schools and charters equally accountable at her Senate hearing last month has raised concerns among parents, educators, and politicians alike.
Advocates are encouraging to call their representatives to vote against DeVos, a tactic that got Alaska's Sen. Lisa Murkowski and Maine's Sen. Susan Collins to change their votes.
If Democrats can't change one more mind, it will be very hard for them to block DeVos' agenda, since Republicans hold the majority vote. So the next 24 hours could mean a lot for parents concerned about how DeVos will impact education across the country for the next four years.