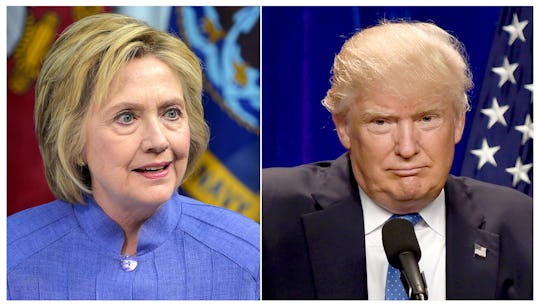 AFP/AFP/Getty Images
When Is The First Presidential Debate? Candidates Will Debate At The End Of The Month
It is finally September which means we're that much closer to November — and that much closer to electing the 45th President of the United States of America. But before Americans can cast their vote, they must first sit through multiple debates to hear the candidates' stances on both sides of pressing issues. If people have been wondering when is the first presidential debate, they won't have to sit around much longer.
That is because the first presidential debate will be held at the end of this month — on Sept. 26 at 9 p.m., to be more exact. The Commission on Public Debates announced the dates, locations, and moderator's names for both the debates on Friday.
This debate, which will be the first of four, will be held at Hofstra University in New York. And, according to Politico will be moderated by Lester Holt — the host of NBC's Nightly News. According to Politico, the debate will be a "traditional debate" consisting of six segments, which topics will be determined by the debate's moderator. The first forum (which is more relaxed than a debate) featuring Donald Trump and Hillary Clinton will be held on Sept. 7 and air on NBC.
This first debate is absolutely crucial for both Clinton and Trump, who are looking to influence undecided voters and win over swing states. Their presentations, appearances, and arguments at these debates could all factor into voter's decisions — making every last debate count.
The other presidential debates will be held on the following: On Oct. 9, ABC's Martha Raddatz and CNN's Anderson Cooper will co-moderate a debate held at Washington University in St. Louis, Missouri. On Oct. 19, Fox News' Chris Wallace will moderate the last debate held at the University of Nevada Las Vegas. The vice-presidential debate will be held on Oct. 4 at Longwood University, in Virginia. CBS' Elaine Quijano will host as Trump's running mate, Mike Pence and Hillary Clinton's running mate, Tim Kaine face off for the first time.
According to the New York Times, Hillary Clinton's advisors are already preparing for her first debate against Trump — piling on the research and coming up with strategy to "undermine" Trump in the debates. This means consulting in psychology experts and even Trump's ghostwriter for resources.
But according to the New York Times, Trump is taking a more laid back approach to his first debate. "I believe you can prep too much for those things," Trump told the newspaper. "It can be dangerous. You can sound scripted or phony — like you're trying to be someone you're not....I don't want to present a false front." Certainly Donald Trump's unscripted personality has gotten him this far with his supporters and voters.
It will be very interesting to see how both candidates and their preparation will carry out on screen. The election is only two months away and every debate performance counts.