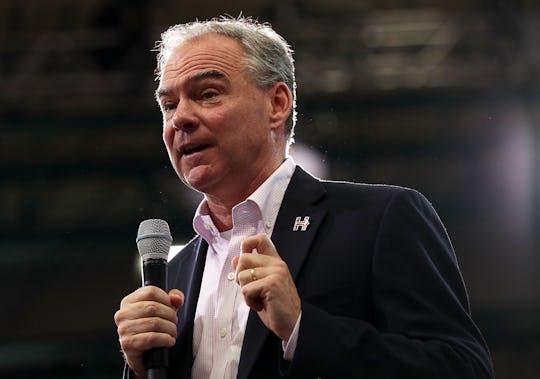 Alex Wong/Getty Images News/Getty Images
When Is The First Vice Presidential Debate? It's One You Won't Want To Miss
It has only been two days since the first 2016 presidential debate and people are still talking about it — and they'll likely continue to do so for the next few weeks. It was totally worth watching every single explosive second of the showdown between Republican Party nominee Donald Trump and Democratic Party nominee Hillary Clinton. But when is the first vice presidential debate and why should voters tune in?
Turns out voters won't have to wait much longer to tune in. While the first presidential debate between Clinton and Trump was highly anticipated, the vice presidential debate should be equally as exciting. For the first time, voters will really get to hear each candidate's stance on issues and see how they can help not only their 2016 running mates, but how they plan to help the nation. Their performances and stances are just as critical, given that they're just one step away from running the country if the worst (or a scandal) ever happened.
Former Indiana governor and Republican vice presidential candidate Mike Pence is well spoken and prepared, and if he plays his cards right, it could potentially help the Trump campaign. And if Virginia senator and Democratic vice presidential candidate Tim Kaine keeps up appearances and puts forward some solid answers, it could potentially bolster the Democratic ticket even more.
The first (and only) vice presidential debate will be held on Tuesday, Oct. 4 at Longwood University in Farmville, Virginia — just eight days after the first presidential debate.
According to Variety, CBSN anchor Elanie Quijano will moderate the debate, which will air on all major news outlets — just like the last and next two presidential debates. According to the Commission on Presidential Debates, this one will be 90 minutes long and will be divided into nine timed segments that are 10 minutes each. The topics for the vice presidential debate have not yet been announced.
In preparation for their own face-off, both candidates had quite a bit to say about their running mate's performances during the first presidential debate. According to The Los Angeles Times, Pence told Good Morning America that he was "disappointed" in debate moderator Lester Holt for pressing Clinton on controversial issues surrounding her campaign. Meanwhile, Kaine said he was proud of Clinton's performance and stamina during the debate.
No matter how Pence and Kaine perform, their party's supporters are stuck with them, for better or worse — and their performances next Tuesday night will likely determine just how much support party members are willing to give.