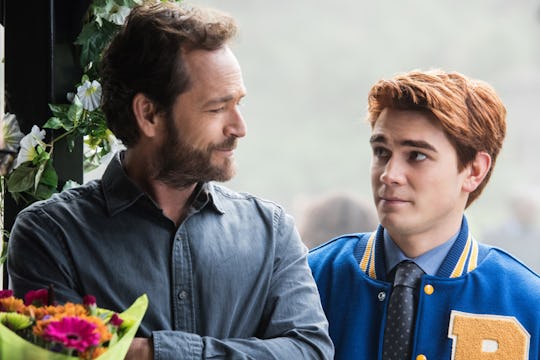 Dean Buscher /The CW
The Flashback Episode Of 'Riverdale' Is Taking The Kids Back To The 90's
If you could turn back TV time, wouldn't you love to see the Riverdale parents bickering it up as teens in the '90s? Well, Riverdale fans are in for a treat, because Riverdale is going back in time with Archie and his friends playing younger versions of their parents. So, exactly when is the flashback episode of Riverdale going to air? Because it looks like it's going to be a wild trip to the past.
The flashback episode will air on Wednesday, Nov. 7 as the fourth episode of Season 3. You might have been expecting a new episode on Halloween, but the network is filling the slot with a rerun of Charmed, so you might need to munch on some trick or treating loot to fill the void. But after getting an exclusive sneak peak of the flashback episode from Entertainment Weekly, you know it's going to be worth the wait.
According to EW, the episode is titled "The Midnight Club" and will be an homage to the classic '80s teen movie, The Breakfast Club. The most exciting part is seeing Archie, Veronica, Betty, Jughead, Cheryl, and Josie transformed into young versions of their parents in the '90s. You can see KJ Apa ditching the red locks to play a young Fred Andrews, Camila Mendes as Hermione, Lili Reinhart as a tough Southside version of Alice, Cole Sprouse as high school football star F.P. Jones, Madelaine Petsch as Penelope Blossom, and Ashleigh Murray as a young Mayor Sierra McCoy.
For fans, it will be fun to see how the Riverdale parental figures have changed over the years. Alice, who now comes across as an uptight snob, was a Southsider back in the day, and Reinhart told EW how she planned on channeling that vibe. "Young Alice is so different from the Alice that you see today," she explained. "She's not just this uptight, precocious, looks-down-upon-everyone teen — like she was a Serpent. So that gives her young personality a lot." Hopefully, through the episode, fans will get to learn why Alice shed her Southside roots, and find out exactly what happened between her and FP back in the day.
While the cast is channeling the young versions of their parents — Apa's wardrobe looks like a throwback to Luke Perry's style on 90210 — the episode's storyline is also linking past and present. Riverdale's executive producer Roberto Aguirre-Sacasa told EW that the flashback episode will connect to this season's ongoing mystery. "One of the things that the kids discover pretty early on is that the murder victims in the present were playing a game called Gryphons & Gargoyles, which is of course the Riverdale version of Dungeons & Dragons," he told the outlet. "And what our kids in the present discover is that their parents, when they were in high school, were also playing this game and there was a similar murder that happened in the past."
But despite the mystery and drama running throughout the episode, the tribute to The Breakfast Club is what I'm most excited about. The Breakfast Club star Molly Ringwald is part of the recurring cast as Mary Andrews, but TVLine reported that the flashback episode will also feature Anthony Michael Hall as Principal Featherhead. Another fun cameo to look out for is Mark Consuelos' real-life son Michael, who will play a young Hiram Lodge.
So with the flashback episode of Riverdale just a few weeks away, fans can look forward to seeing their favorite cast going back in time. Personally, I cannot wait.