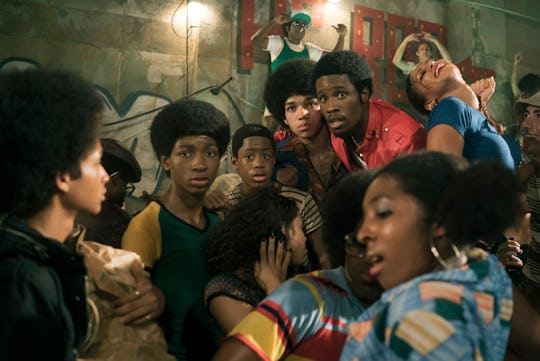 Myles Aronowitz/Netflix
When Is 'The Get Down' Season 2? Its Future Is Uncertain
The Get Down is the kind of show that leaves you craving more. It's an immersive experience, with everything – setting, costumes, music, characters, and story – working together to create a world that feels full and authentic. As soon as one episode is over, you're going to find yourself wanting another. So what happens once you work your way through all twelve episodes of the first season? What's next? When is Season 2 of The Get Down?
It might be a little too early to make a definitive call; Netflix hasn't made any announcements about the show's future yet. If the show gets renewed, it will probably depend on the reactions of critics and audiences, though Netflix tends to renew its shows for the most part so that's not a big concern. However, The Get Down is a huge, expensive production so Netflix might want to hold off to see how people like it before handing out a second season.
The first season will also be split, with six episodes available for streaming on August 12 and the final six available at a later date (still unannounced). This is unusual for Netflix and may have something to do with the demands of production, but it could also end up having an effect on Season 2. Netflix shows generally have a year, give or take, between seasons, so if there was a second season of The Get Down, one could guess that it might be released around mid August next year. However, a lot of factors could affect that guess.
For one, the delayed release of the second half of the first season could make the wait for Season 2 even longer. Non-streaming television shows like Mad Men and Outlander have split seasons, which only increased the wait between new episodes. Production could also make an impact. The show is Netflix's most expensive, coming in at around $120 million total to produce, and it was plagued by problems behind the scenes. Not only was the process of creating the show unique for television (creator Baz Luhrman said there was "no precedent for what we were doing") but they had to deal with filming setbacks, script changes, replacing writers and showrunners, as well as – of course – cost concerns. According to Variety, the writers nicknamed the show The Shut Down while it was in production because there were fears it would never quite get off the ground.
All of this could impact the show's second season, which makes it difficult to predict when it will premiere – if it ever does. The renewal odds are good for a show with this much buzz but that doesn't mean the wait for more won't be excruciating.