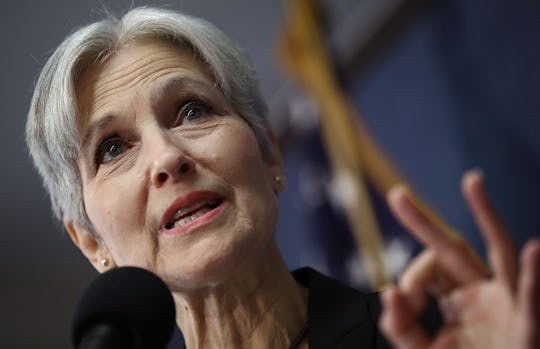 Win McNamee/Getty Images News/Getty Images
When Is The Michigan Recount Deadline? Jill Stein Just Filed An Official Request
It was only two days ago that Michigan finally finished counting its votes from the presidential election, announcing that President-elect Donald Trump won the state with 16 electoral votes. But, it looks like it may have to start all over again because Jill Stein just filed an official request for a recount in the Great Lakes State. Since Election Day, the former Green Party candidate has raised millions of dollars to cover the costs of a vote audit in three key swing states: Pennsylvania, Wisconsin, and Michigan. Stein has already successfully filed for a statewide recount in Wisconsin and a partial one in Pennsylvania, but when is the Michigan recount deadline?
The recount efforts came together just in time as today, Wednesday, Nov. 30, was the last day to petition for Michigan's votes to be counted again. CBS News reports that state election officials have already authorized that the 19 largest counties in the state will begin a recount on Friday, possibly continuing into the weekend as every ballot will be counted by hand in each county. When you consider how long the first time took to finalize, it's likely that the second time around is going to take a little extra time as well.
State election officials will want to take their time and count those votes carefully because Trump won Michigan by less than 1 percent, making it the closest presidential race in the state's history, according to NPR.
On Monday, NPR reported that the Board of Canvassers in Michigan had verified that Trump beat Democratic nominee Hillary Clinton by just 10,704 votes out the 4.5 million votes cast in the state. Those razor-thin margins come down to 47.6 percent of Michigan on team Trump and the other 47.4 percent in Clinton's favor.
According to CBS News, Trump has the right to contest the recount, as long as he and his attorneys do so within seven days of the date when Stein requested it, meaning he as until next Wednesday, Dec. 7. And the Detroit Free Press reports that his team plans to do just that by proposing a machine recount, rather than one by hand.
Machines are certainly more efficient and will speed up the counting process, but using them somewhat defeats the purpose of a recount as some have alleged there may be a possibility that voting machines may were hacked, a significant factor that led to the recount efforts in the first place.
While it's unlikely that the results of the recounts done in Michigan, Wisconsin, and Pennsylvania will change the overall outcome of the election's results, experts have urged Clinton to challenge them anyway. As CBS News' Emily Schultheis explained, if all three states' votes prove to be in Clinton's favor, then she would exceed the 270 electoral vote requirement with 278.
It might be very unlikely and perhaps a far-fetched idea, but some Americans may never have peace of mind until they know for sure if the results were counted correctly or incorrectly the first time.