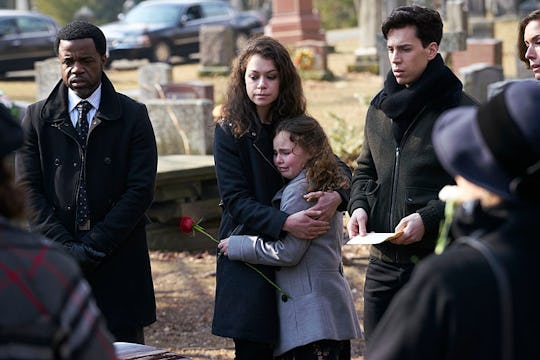 IAN WATSON/BBC AMERICA
The Orphan Black Season 5 Finale Is Happening Way Too Soon
It's been quite a ride for Orphan Black fans, so it's hard to imagine that in just a few more episodes, the journey with Sarah and her sisters might all be over. For hardcore fans, it's probably better to start prepping now for when the Orphan Black Season 5 finale is, since it's going to be the last episode ever of the series. The finale airs on Aug. 12 and the episode is called "To Right The Wrongs Of Many," which is sort of fitting for the series.
According to co-creator Graeme Manson, fans will be very pleased with the ending to the series. It's been a long road for Sarah, Rachel, and all of her sisters — and every time it seemed like there would be a conclusion, things always took a turn. Last year, Manson and the writers had pretty much no idea exactly how Orphan Black would end, which seems impossible considering how seamless everything seems to be with the plot lines. The process sounds a little stressful. She told Entertainment Weekly last year about writing the final season:
We're sort of at the place where John Fawcett [co-creator] and I stare at each other across the table and scratch our heads. And then we start throwing out really cool ideas and we get juiced on certain things and we start to set up some tent poles and some big ideas. We look at where we leave everyone and where they are to date and get some big ideas to take into the writer's room.
Over the course of five seasons, it seems to have worked. The Clone Club is in store for some big surprises and some answers, although now that it's all coming to an end, even the cast is getting nostalgic. Kristian Bruun, who plays Donnie, recently got a little wistful in an interview with Entertainment Weekly when talking about his now legendary scene twerking on a bed with Allison (Tatiana Maslany).
Apparently, it was just as epic for the actors as it was for the fans. Bruun said of the scene, in which Donnie and Allison celebrate their newfound cash from a drug business, "Twerking on a bed full of money … that was like a bucket-list check right there." He added that he definitely fell off the bed and into a wall during filming, too. Maslany added to anyone who wanted to try it at home, "Be careful where the glitter goes because it will stay there for a good couple months."
So even if it will be a sad goodbye for the Clone Club next week, at least the actors will know everyone misses them. And we'll always have some epic moments to remember the show by.