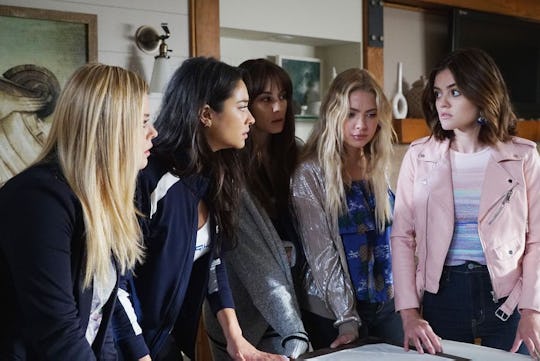 Eric McCandless/Freeform
The 'PLL' Series Finale Will Be Here Way Too Soon
After seven seasons of murder, backstabbing, love triangles, and mystery, Pretty Little Liars is finally coming to an end. The final season begins on Tuesday, April 18 but when is the Pretty Little Liars series finale? If the last 10 episodes air with no breaks in-between, the finale will air on Tuesday, June 20, however that could change, depending upon scheduling. For now though, fans can expect to say goodbye to their favorite liars by the end of June.
Last year PLL creator I. Marlene King told reporters the series finale will serve as a "two-hour special event movie," which she herself directed. She's also promised fans that all of their questions will be answered by the end of the finale, though fans have trouble believing that's true.
The episode, which is titled "'Til Death Do Us Part," will include a wedding, which many fans believe will be between Aria and Ezra, although their relationship status was left a bit up in the air during the midseason finale. Ezra reconnected with his presumed dead ex, Nicole, on TV while Aria watched at home, which was equal parts awkward and heartbreaking.
As could be expected, the finale may also include a death, at least that's what fans believe based on a line of the finale script King tweeted last year.
Naturally, at this point it's unclear which liar's life will be in danger, although truthfully it could be any or all of them. However, at the start of the 10 episodes at least all the liars will be alive. The midseason finale ended with Spencer's life hanging in the balance, but it's clear from the promos she ends up recovering — at least physically. She may still be coming to terms with the reveal that Mary Drake is her real mother, making Alison her cousin and Jason her cousin and half-brother? (Is Peter Hastings still Spencer's biological dad? This family is confusing.) In either case, King told Variety that the revelation will be a "driving engine of Spencer's emotional story" in these last 10 episodes.
Besides that, the final episodes will also deal with Ali's pregnancy revelation, Hanna and Caleb rekindling their romance, and the fate of Toby who was also left in a dire state the last time we saw him.
It'll be interesting to see where all the liars end up when the series comes to an end, but no matter what happens it'll definitely be difficult to say goodbye.
The final season of Pretty Little Liars begins on Tuesday, April 18 at 8 p.m. ET on Freeform.