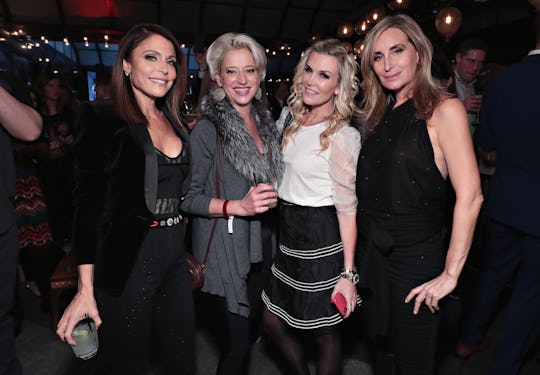 Cindy Ord/Getty Images Entertainment/Getty Images
The 'RHONY' Season 10 Reunion Is Going To Be Intense
The tenth season of The Real Housewives of New York City is drawing to a dramatic close, with the finale airing on August 15. After a whirlwind trip to Colombia that came with plenty of tears and one tumultuous boat ride, the women will be back in the city to celebrate Luann's cabaret debut before the season ends. But there's still the reunion to look forward to, as long as you know when it is. So when is the RHONY reunion?
The first part of the RHONY reunion airs on August 22. They are usually two or three parts so there's enough time for every cast member to air their grievances. And these women certainly have a lot of problems with one another, as the trailer for Episode 20 shows. Everyone will be done up in their sparkliest gowns with their hair styled and their jewelry gleaming, but their moods will not be quite so bright. There's an issue from the outset when Ramona doesn't appreciate the side of her face captured on camera (apparently she has a bruise), so all of the women have to switch couches. After that, it only seems to disintegrate further. As Carole says at the start of the promo, "I would describe reunion day as a blend of group therapy and torture."
Sounds about right.
What follows is a rapid-fire montage of clips: Carole calls someone (possibly Bethenny) a liar, while Bethenny does a mocking impersonation of somebody claiming to have heard a story of some kind. Meanwhile, host Andy Cohen asks the hard questions. He wants to know if Bethenny really thinks "she" is a drunk (it's not wholly clear to whom he's referring) and asks if Tinsley's boyfriend sees other people when they take breaks from their relationship. (Tinz says yes.)
Dorinda remarks that it's hard to predict what will happen over the course of the reunion, which is a feeling several of the women echo. Tinsley claims she's always blindsided, and though Ramona feels calm at the start of the evening, she's shouting by the end of it. Bethenny calls herself the Mother of Dragons fighting multiple blondes. There's so much arguing that Andy has to yell to be heard above them.
It looks like Andy gets embroiled in the drama himself, telling Us Weekly that it got pretty messy this year because he's so involved with the women. He said:
Carole Radziwill tells me I'm full of s*** on the reunion. I have complicated relationships going on there, especially at the reunions. I'm the boss, I'm the friend, I'm the confessor, I'm the inquisitor, I'm the daddy, I'm the lover, I'm the fighter. It's complicated.
He also warned Entertainment Tonight that the reunion wouldn't just be hard for him, it would also be hard for Bethenny, saying:
I watched Part One on the plane today and it's great. What's interesting is the women are gunning for Bethenny. It's like a gang bang on Bethenny. Yeah, oh yeah. Big time. They came ready to go with her.
Bethenny has had a difficult season, clashing with Dorinda a few times but also dealing with the breakup of her friendship with Carole. It seems like all of that tension is going to come to a head in the reunion special.
One woman will be missing from the couches on August 22. Luann de Lesseps had to skip the reunion so she could return to rehab for the second time. Bravo previously released a statement to People offering their full support to Luann while she prioritized her health. She'll be missed at the reunion, but it's good that she's taking care of herself. Everyone else will just have to fight it out in her absence.