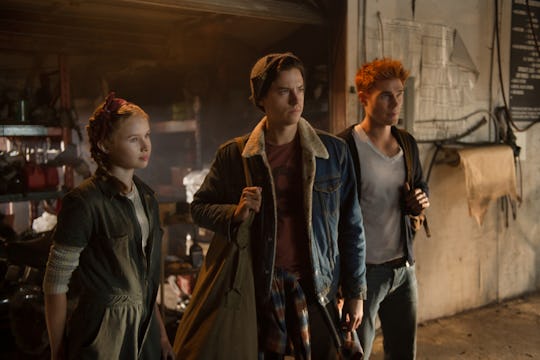 Diyah Pera/The CW
The 'Riverdale' Fall Finale Will Keep Fans Excited Until Next Year
The mystery just keeps getting darker on Riverdale, and with Archie and the gang all split apart, it may be awhile before fans find out who's to blame for this season's sinister plots. With just two episodes left this year, the series is taking a break for its winter hiatus. But exactly when is the Riverdale fall finale? Fans are hoping the episode holds them over until 2019.
The Riverdale Season 3 fall finale will air on Wednesday, Dec. 12 at 8 p.m. ET on the CW and the series will return on Wednesday, Jan. 16. Sure, waiting a month will be torturous, but in an interview with The Wrap, showrunner Roberto Aguirre-Sacasa revealed that you just might have something to hold onto while you wait. When asked if the identity of the elusive Gargoyle King will be revealed soon, Aguirre-Sacasa responded with a resounding "yes."
The second to last episode, "The Man in Black," follows Archie and his friends, who are now split in different directions. Archie and Jughead skipped town to avoid the wrath of Hiram and the Gargoyle King, Veronica is left broken-hearted after her break-up with Archie, and Betty was dragged away to live at The Sisters' mental hospital. While the gang's future seems bleak, Aguirre-Sacasa told The Wrap that in this upcoming episode, they will all find their own way to battle the Gargoyle King.
"The next episode after the one this week is sort of a twist on a version of an episode we did last year that everyone really liked, which was three short stories rather than one woven-together story," said Aguirre-Sacasa. "And it does find our characters on their individual journeys to stop the Gargoyle King. I really wanted to play with that [format] again."
The fall finale, titled "Outbreak," will be the eight episode of the season, and while it may or may not reveal the Gargoyle's King's identity, it will introduce viewers to Jughead's family. TV Guide reported that the episode will feature veteran actress Gina Gershon as Jughead's mom, Gladys, and Trinity Linkins as his little sister, Jellybean. Jughead and FP have sporadically mentioned Gladys and Jellybean over the last two seasons, but fans will finally get a chance to see who they are, and possibly find out why they left.
According to TV Guide, when talking to reporters on the Riverdale set recently, Cole Sprouse revealed that the midseason finale will help connect some dots when it comes to his character's backstory. "I think for me, it's nice to have a little more background on Jughead's character and his family life and a lore that has sort of been hinted at since Season 1 really," said Sprouse. "Loose ends that — without saying too much — do get addressed and do get talked about." In the same interview, actor Skeet Ulrich added that Gladys' is going to be an unpredictable character, and she will find a way to push FP's buttons.
So with the Riverdale teens spread all over the game board and Jughead's family stepping into the limelight, it'll be interesting to see how the storylines tie into the larger mystery at hand. After all, priority number one is finding out who the Gargoyle King really is, and why he's been manipulating and killing people in Riverdale for all these years. He also has a hit out on Archie (aka the "red paladin") so defeating him is of the utmost importance. Hopefully, the fall finale will clue fans in on his identity, so that they have something exciting to talk about over the holidays.
Riverdale airs new episodes Wednesdays, at 8 p.m. on The CW.
This first-time mom wants to have a home birth, but is she ready? Watch how a doula supports a military mom who's determined to have a home birth in Episode One of Romper's Doula Diaries, Season Two, below. Visit Bustle Digital Group's YouTube page for the next three episodes, launching Mondays in December.