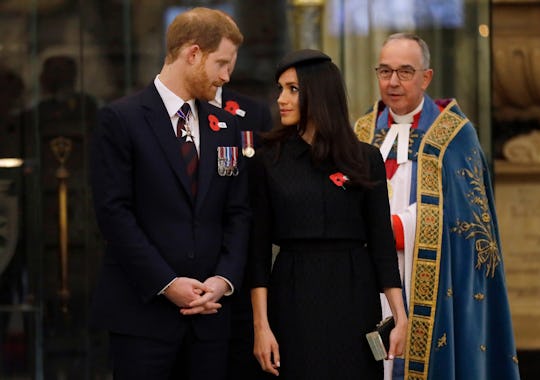 WPA Pool/Getty Images Entertainment/Getty Images
Americans Will Have To Wake Up Early To Watch The Royal Wedding
An event that only happens once in a blue moon is upon us: a royal wedding. On Saturday, Prince Harry and Meghan Markle will tie the knot for the entire world to see. But it's happening in London, so those stateside may not know what time it's happening. So when is the royal wedding on in the U.S.? London time is up to eight hours ahead of those in the continental United States (if you live in California), so some Harry and Markle fans will have to rise and shine pretty early for the festivities if they want to see it live.
The last time such a huge event like this happened was in 2011, when Prince William, Duke of Cambridge, and Kate Middleton, Duchess of Cambridge, tied the knot. According to BrideBook, two billion people watched William and Kate's wedding — and more than three billion people are expected to watch this affair. No big deal, but a bit under half the world's population will be tuning in.
Of course, most of those will be nowhere near St. George's Chapel at Windsor Castle, where the two will say their vows (though, also according to BrideBook, around 500,000 people will be at Windsor Castle to take in the sights.) Harry and Markle's wedding will be at 12 p.m. London time, which means different things depending on where U.S. viewers live.
London time is five hours ahead of EST, so for east coasters the wedding will begin at 7 a.m. Not bad! But for those non-east coasters, you may need to drink a lot of coffee Saturday morning (but hey, it's actually against the royal family tradition to have a wedding on a Saturday, so at least most people won't have to catch it during their morning commute). For those in the central time zone, this means the wedding will start at 6 a.m. West coasters, I'm sorry but for you that means the royal wedding begins at 4 a.m. But that means you can just start the festivities sooner! It's like Christmas morning, except there are no gifts.
Thankfully, the Kensington Palace Twitter account gave the lowdown on what will happen during the ceremony. "At 1pm the couple, now married, will undertake a Carriage Procession from St George's Chapel through Windsor Town returning to Windsor Castle along the Long Walk," the Palace stated, adding:
They hope this short journey will provide an opportunity for more people to come together around Windsor and to enjoy the atmosphere of this special day. Following the service, there will be a reception at St George's Hall for the couple and the guests from the congregation.
The fun doesn't stop there, however. Kensington Palace also stated that, "Later that evening, The Prince of Wales will give a private evening reception for the couple and their close friends and family." Unfortunately, that sounds like the general public won't be able to get in on those festivities. Boo but also, Americans may be so tired from getting up to watch the ceremony that many may be thankful for a break.
There will, however, be plenty of ways to watch the royal wedding, both online and on TV. There will be a TV special for everyone's taste — from CNN to a parody special playing on HBO with Will Ferrell and Molly Shannon. No matter how you feel like watching Harry and Markle say "I do," I'm confident there is a channel that will fulfill your wish. The only gripe is that I have to wake up early, but like I said: this happens so infrequently that it's totally worth it. And given that there are no royals more famous that Prince William and Prince Harry, I doubt there will be an event as big as this in the near future. So go ahead, eat lemon and elderflower cake for breakfast on Saturday morning. I doubt you'll be alone.