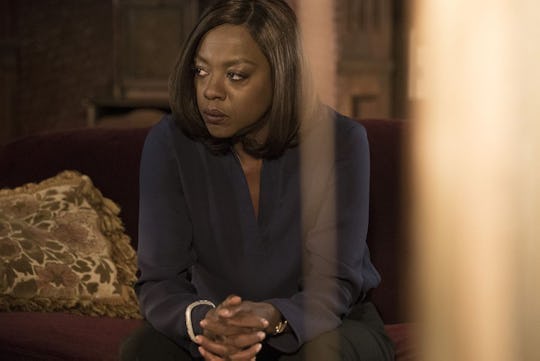 Richard Cartwright/ABC
Here's When To Expect The 'Scandal' & 'HTGAWM' Crossover Event
Shondaland worlds are about to collide in the best way. It was announced a few weeks ago that a How to Get Away with Murder and Scandal crossover is officially happening, which set the collective internet ablaze with excitement. So now that Shonda Rhimes' TGIT line-up is back, it's not surprising that fans are now starting to wonder: when is the Scandal and How to Get Away With Murder crossover?
Unfortunately, there's been no exact air date set yet for the crossover event, but How to Get Away With Murder creator Pete Nowalk told Deadline that it will happen a few episodes before the Scandal series finale. So we still have a ways to go before then. The crossover will be a two-hour event and it will begin with Annalise appearing on Scandal and then Olivia showing up on How to Get Away With Murder. Though Nowalk refused to say which other characters may be crossing over, he did say there will be more people getting in on the action. However, it's unlikely Bonnie will be on Scandal since Liza Weil once had a recurring role on Scandal as Amanda Tanner; her storyline didn't end so well. Everyone else seems fair game though, so that could make for some fun interactions between Scandal and HTGAWM characters.
Nowalk, of course, refused to reveal what exactly brings Annalise and Olivia into each other's orbits and how they may possibly be working together, but based on the script excerpt Rhimes shared on her Instagram, it looks like Annalise will go to Olivia. Perhaps Annalise needs a fixer? Fans will just have to wait and see.
Nowalk did reveal in the same Deadline interview that these won't be standalone episodes and will influence the plots on both Scandal and HTGAWM going forward. "They're actually both very pivotal to each other's storylines," he confessed. Additionally, Tony Goldwyn, who plays Fitz on Scandal, will be directing the Scandal half of the crossover event, while longtime Shondaland director, Zetna Fuentes, will direct the HTGAWM half. As for any other details on the crossover, Nowalk said they're keeping everything under wraps.
"Scripts are really under lock, and that really is just about maintaining the fun for the audience, because the thrill of these shows is the surprise a bunch of the time, and I think that's the really good surprise," he said.
It's true, Shondaland fans do love a good twist and no doubt Rhimes and Nowalk have come together to create a very twisted two-part episode. One can only guess what they have in store for Olivia and Annalise.
Until the crossover event there's a lot to look forward to regardless. Both Scandal and HTGAWM ended on cliffhangers in their midseason finales. On Scandal, Quinn's fate remains up in the air and fans don't know if she's alive or dead. Meanwhile on HTGAWM, it was revealed that Annalise was able to save Laurel's baby's life, but it didn't answer all the questions those various flash forwards raised. Like what happens to the baby after that? And does Simon somehow survive his gunshot wound? What about Connor, who was only a few feet away from Wes' killer?
There are a lot of questions that still need to be answered on both shows, and hopefully fans will get some answers soon. Make sure to tune in for the midseason premieres of both Scandal and How to Get Away With Murder this Thursday, Jan. 18 on ABC, beginning at 9 p.m. EST. And to get the full TGIT experience, also check out the midseason premiere of Grey's Anatomy at 8 p.m. EST. You won't want to miss them!
Check out Romper's new video series, Romper's Doula Diaries:
Watch full episodes of Romper's Doula Diaries on Facebook Watch.