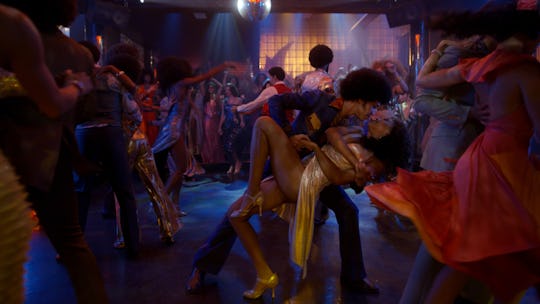 Netflix
When Is The Second Half Of 'The Get Down' Season 1? It Can't Come Soon Enough
Though the first season of Netflix's The Get Down is twelve episodes in total, you may have noticed that only six were made available for streaming. It's unusual for Netflix to split up a season because they generally upload everything at once, and it makes the wait for more episodes feel even longer. And after zipping through those six episodes you're going to need the rest of the season, like ASAP. So when is the second half of The Get Down?
Sadly the answer isn't exactly reassuring. So far, there doesn't seem to be a set date in place for the release of the second half of Season 1. The final six or seven episodes are going to drop sometime in 2017, which means at the very least there will be several months' wait before anyone gets to see the rest of the first season. It's a major bummer, especially for a show as exciting and compulsively watchable as this one. The Get Down barrels towards its conclusion, so having to wait for that conclusion is rough.
Why did Netflix decide to split the season up, anyway? Apparently it had something to do with the production issues that plagued the show from the beginning.
The show might not have existed at all. Creator Baz Luhrmann had been working on the idea for the series for 10 years but it was difficult to bring to fruition. Even once the deal was struck with Netflix, it took two and a half years to get to where it is now, and during production they had to deal with replacing the showrunner several times, replacing writers, and constrains of the budget. The Get Down is setting records when it comes to expensive television; originally it was supposed to cost $7.5 million per episode but the season ended up costing around $120 million total.
Series co-creator Stephen Adly Guirgis said in an interview for the Vulture TV Podcast that this definitely had an impact on Netflix's decision to split the first season. According to him, Netflix and Sony Pictures TV "wanted to get something on the air" after such a length time in production. That's an understandable decision on their part but because the split wasn't initially in the plans, Guirgis was regretful that they weren't able to really take advantage of it. "So where we end part one, it's not exactly a cliffhanger," he said. "And that's a little disappointing to me. Because if we had known we were splitting it, we could have really made people suffer."
So even though fans are going to be suffering in the wait between part one and part two, we can all take comfort in the fact that there won't be a horrible nail-biting cliffhanger to puzzle over until 2017.