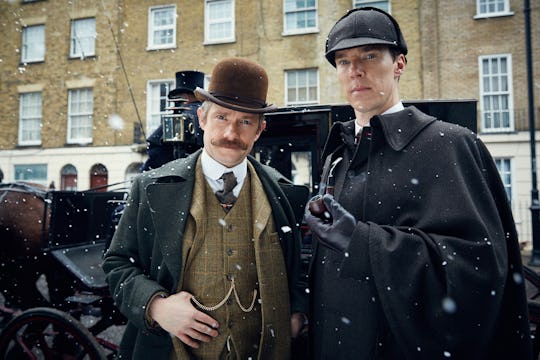 When Is the 'Sherlock' Special Airing In The U.S.? It's Finally Here, & It Will Probably Be The Best Thing Ever
We might only be one day in, but 2016 is turning out to be a great year for Sherlock fans: the long-awaited, one-off episode, Sherlock: The Abominable Bride is airing in the U.K. on Jan. 1 at 9 p.m. on the BBC. But when will the Sherlock special be airing in the U.S.? We might be used to having to wait for our favorite British show to air across the pond, but this time we won't have to: Sherlock will be airing at 9 p.m. EST in the U.S. too, making it the first time Sherlock has had a same-day release in both places.
The 90-minute episode will air in the United States on PBS, and will also be simultaneously broadcast online (yay!). And in the off-chance that you haven't cleared your entire schedule and life in anticipation, you'll have additional chances to catch it, too. PBS will run an encore performance on TV Sunday, Jan. 10 at 9 p.m. EST, and the full episode will be available to stream online from Jan. 11 to Jan. 24.
But because this special is basically going to be the Cumberbatch-and-Freeman highlight of all of our lives, Sherlock will also run in theatres throughout North America. The two-night engagement will run January 5 and 6 at 7:30 p.m. local time.
So what can viewers expect from this episode? We already know that Sherlock: The Abominable Bride will depart from the usual series by being set in Victorian-era London. According to the Telegraph, the plot of the Sherlock special is centered around a man named Thomas Ricoletti, who comes home one evening to find that his wife has committed suicide wearing her wedding dress — and her ghost, apparently, has taken to stalking the streets of London. Sherlock creator Steven Moffat has called the episode "a proper scary mystery", and, given the insane twists and turns of the critically-acclaimed series thus far, chances are good he'll deliver on that claim.
Unfortunately though, after this episode, it looks like it will still be a while before we'll get to see more. According to PBS, Season 4 production won't begin until spring 2016.
Image: Robert Viglasky/Hartswood Films and BBC Wales for BBC One and MASTERPIECE