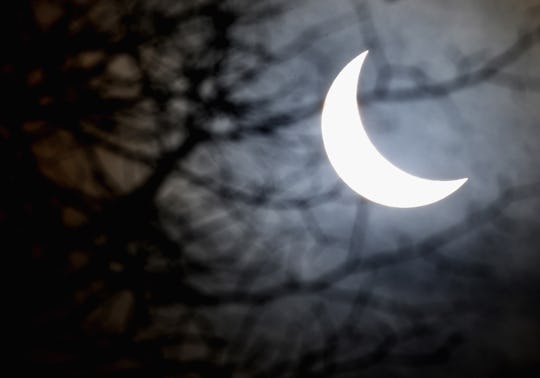 Clive Mason/Getty Images News/Getty Images
Here's Exactly When You Can See The Solar Eclipse
Like Bonnie Tyler, the United States will soon experience a total solar eclipse. A lunar shadow will shroud the country for up to three hours, beginning to end. There will be a chill in the air. Stars will pepper the sky during what's typically broad daylight. So when is the solar eclipse? In a little more than two weeks, and it will be a sight to behold.
According to Vox, the total eclipse will happen on Monday, Aug. 21. The solar event will eclipse the country, although its totality will differ by where you live. The path of the umbral shadow — where the sun is obscured by the moon completely — will stretch in a diagonal arc from Salem, Oregon, to Charleston, North Carolina, starting at around 9 a.m. Pacific Time and ending at 2:48 p.m. Eastern Time, according to NASA. The totality has a 70-mile radius, which means most of the country outside of the path will see a partial eclipse, Vox reported.
The total solar eclipse happening on Aug. 21 will be quite special. It has been 38 years since the United States experienced such an awe-inspiring event, according to the National Park Service. Fun fact: The Sony Walkman was introduced that same year.
If you haven't experienced a solar eclipse, be prepared for a wondrous sight. As Fred Espenak, retired NASA astrophysicist and photographer, put it to ABC News,
It is unlike any other experience you've ever had. It's a visceral experience; you feel it. The hair on your arms, on the back of your neck stand up. You get goosebumps.
Espenak is right: A total solar eclipse is an awesome sight — at least that's what I could tell from photos. I wasn't born yet when the last total solar eclipse happened. But I'm excited that I get to see it with my partner, who also wasn't alive in 1979, and my son, who's only 2 years old. And I hear the best way to experience such a magnificent sigh is by attending an official viewing party. You can visit NASA's website for a list of different parties, festivals, and gatherings where you can geek out with other people over the natural phenomenon.
If you want to see it alone or just with your family, you can always camp out at a park or on your front porch. Either way, keep your eyes protected, don't stare directly into the sun, and make sure you're listening to Bonnie Tyler.