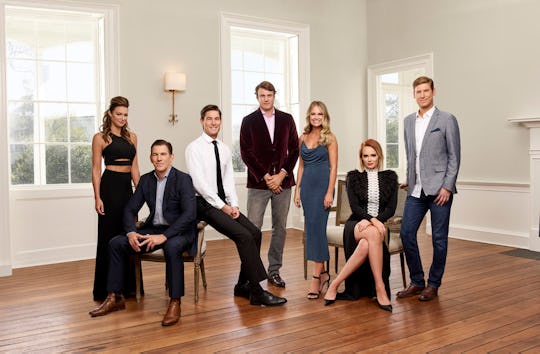 Rodolfo Martinez/Bravo
The 'Southern Charm' Finale Is Going To Be Explosive
If you're a fan of Southern Charm, you know this season has been one for the books. With all the relationship drama surrounding Thomas Ravenel, Kathryn Dennis, and Ashley Jacobs with an ultimate showdown looming, fans are bracing themselves for an exhilarating end to the season. So, you may be wondering, exactly when is the Southern Charm finale? It's going to be filled with delicious drama, so you won't want to miss it.
The Southern Charm Season 5 finale is all set to air on Thursday, July 12 at 9 p.m ET on Bravo. The finale will be bringing a few of the season's biggest storylines to a head, with a lot of the drama ensuing at Patricia Altschul's annual Winter Ball. For one, after years of continuous tensions between Patricia and Kathryn, it looks like the two are making amends. After being ignored and left out of events by Patricia for the past few years, fans were shocked to see that she had been invited to the ball.
But it's the drama between Kathryn and Thomas' girlfriend Ashley that will take the cake during the finale. Ashley, who is not part of the official cast, has become one of the most talked-about personalities on the show this season. She's bold and has butted heads with Kathryn, who has two children with Thomas, from the beginning. And from the previews it looks like this tension will finally come to a head at the ball. Sometimes I'm shocked at what she says and does but whatever her reasoning, she's definitely upped the drama game on Southern Charm, so it will be interesting to see how the season ends.
Ashley and Thomas have had a tumultuous relationship on the show — he's even considered breaking up with her. In one episode, Thomas indirectly told Ashley he thinks she's a gold digger. "I see you as a wonderful person who has a wonderful career," he said. "That career helped make you the person that made me want to bring you all the way to the east coast, but the way things are going, I'm just some kind of sugar daddy." When talking about the possibility of a breakup with Thomas to Shep Rose, Ashley jokingly insinuated that he should date her, which thrust her intentions into the spotlight further.
All of this will no doubt be discussed in great detail during the show's reunion special. Unfortunately, it appears that Thomas will not be at the Southern Charm reunion. He is currently facing two allegations of sexual assault. One allegation, according to People, comes from his children's nanny, Dawn, who claimed that he tried to forcibly kiss her after coming home one night. The other allegation comes from Debbie Holloway Perkins, who claims to have been sexually assaulted by Thomas on an October 2015 Tinder date. According to People, she says he thrust himself on top of her and inside of her while she screamed for him to stop. Both cases are being investigated by the South Carolina police department, and no formal arrests or charges have been made.
Thomas has steadfastly denied the accusations, and in a statement to People, his lawyer Richard P. Terbrusch stated, "My client enjoys a certain degree of fame, which has unfortunately made him a vulnerable target for such claims," adding, "He is appalled and hurt by these allegations — and is committed to defending his reputation in the appropriate legal forum."
Bravo released their own statement saying:
Haymaker, the production company for Southern Charm, and Bravo take allegations like these very seriously. Haymaker is conducting an investigation, and once all the information is gathered and carefully reviewed, appropriate action will be taken.
If these allegations are proven to be true, Thomas should absolutely be fired from the show. Luckily, there is plenty of drama to go around without him.
So don't miss the showdown with Kathryn and Ashley, as well as the fate of Craig's pillow business during the finale.