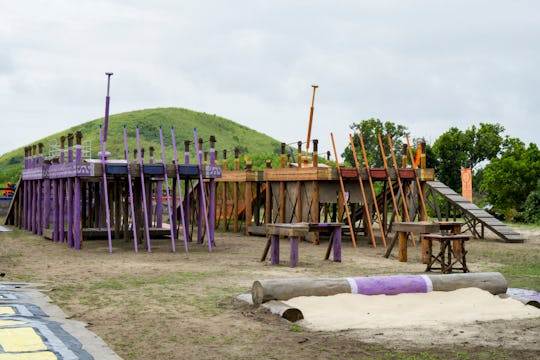 David M. Russell/CBS Entertainment
Anything Could Happen Before The 'Survivor' Season 37 Finale
Survivor: David vs. Goliath is still in the middle of its season, delivering weekly challenge after weekly challenge. But viewers might be eager to know when the conclusion will be so they can try to predict exactly how the season might go. So when is the Survivor Season 37 finale?
Though it hasn't been officially announced, Survivor tends to follow a regular schedule. Season 37 premiered on CBS on Sept. 26, and each season tends to have around 13 episodes. If that remains true for David vs. Goliath, then it will likely conclude in mid-December. The show airs twice a year, in spring and autumn, and the autumnal seasons tend to begin in late September and finish before the end of December. Survivor: Heroes vs. Healers vs. Hustlers had 13 episodes and finished on Dec. 20; Survivor: Millennials vs. Gen X also had thirteen episodes and aired its finale on Dec. 14.
If David vs. Goliath continues to stick to the same schedule, then its finale should be on your screen sometime around mid to late December. Only three episodes have aired so far, which means the audience still has plenty of time left to make their predictions about the winner.
Survivor: David vs. Goliath airs every Wednesday on CBS at 8:00 p.m. The theme of this year is a little different from seasons past, with its two teams taking inspiration from the Biblical story of a boy who defeated a much more powerful adversary. Similarly, Survivor's Davids are underdogs who you might not expect to succeed, though they all have secret weapons to help them in the game. Meanwhile, the privileged Goliaths might have all the expertise to win, but they also have weaknesses that could prove to be their downfalls.
Season 37 has been an eventful one so far, especially because of the elements and how they've affected the game. Executive producer Matt Van Wagenen told The Hollywood Reporter, "Truthfully, I think this may be the roughest start to a season since I've been with the show." The publication stated that he had been with the show since Survivor: Fiji in 2007. Van Wagenen continued:
When people have been playing the game for two or three weeks and suddenly a storm comes, at that point, they have a great shelter and have figured out a routine. They have their Survivor legs underneath them. If you start a season with a storm like that and that kind of weather? It's hard to get your feet underneath you. It's really brutal. You can't stop from thinking, 'Is this what the whole game is going to be?' You can't see the light at the end of the tunnel. It doesn't feel like there is one. I would imagine that's a hard way to play.
Survivor: David vs. Goliath promises to be an action-packed season, with plenty of obstacles in place to complicate the competition. Viewers have had a chance to meet all the contestants by now, so they can develop a sense of who will do well as the weeks continue. But with so much time to go before the finale, anything could happen.