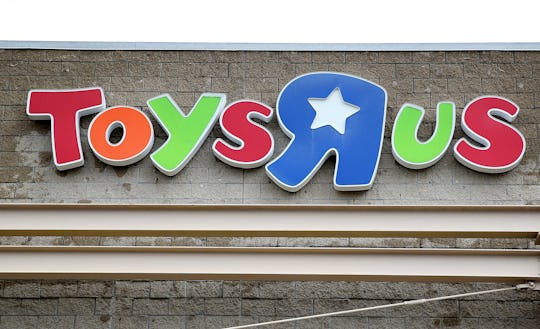 Justin Sullivan/Getty Images News/Getty Images
Toys "R" Us Is Closing The Rest Of Its U.S. Stores For Good This Week
Millennials across the nation were both shocked and saddened when Toys "R" Us announced in March that it would be closing all of its locations, including Babies "R" Us. In fact, I'm pretty sure a collective "Noooo!" rung out from the Pacific to Atlantic coasts. For so many of us, Toys "R" Us closing up shop feels like the end of an era or sorts. But when exactly is Toys "R" Us closing for good? There are only a few more days left for this iconic store.
The toy store chain will be closing its doors for good by this Friday, June 29, according to CNN, although some of the remaining 200 locations in the United States might officially close their doors earlier this week. But, as the news outlet reported, this Friday will be the absolute last day for all locations.
Toys "R" Us initially filed for bankruptcy back in September, hoping that it could turn things around, as Forbes reported. However, a less-than-stellar holiday sales season didn't help the chain as many had hoped it would. By March, Toys "R" Us announced that it would be closing the rest of its locations in the United States, according to The Washington Post. Nationwide liquidation sales began at the end of March, starting at anywhere from 5 to 20 percent off listed prices, going all the way up to 90 percent off during the final days, as CNBC reported.
And so, June 29 will mark the end of an era lasting more than 60 years. In light of this final countdown leading up to the closing of all Toys "R" Us locations in the United States, plenty of people are making "one last trip" to the iconic toy store. And let's just say, they're having a lot of feelings about it all.
"I'm really starting to get sad about @ToysRUs closing," one Twitter user wrote. "Only 4 more days left."
Another person tweeted photos of a nearly-empty store they recently visited, writing: "Toys 'R' Us closes in 4 days. I went in one last time and I swear it hit m[e] like a truck. Seeing your childhood die like that is worse than heartbreak."
"#ToysRus closes in 5 days ... just did my last visit there" another person tweeted over the weekend. "A pain in the gut walking in there seeing it 90% empty."
"The end of an era," yet another Twitter user wrote, alongside a photo of empty store shelves. "Last 5 days of Toys R Us is just a sad reminder that times have indeed changed."
In the wake of Toys "R" Us' closure, Party City has announced it will open about 50 Toy City pop-ups during the holiday shopping season, as USA Today reported. A long shot at a potential Toys "R" Us revival has also made recent headlines, as Bloomberg reported. So is it really the end? It's hard to say for sure. But, as it stands right now, all locations will definitely be closed come Friday.
I'm not gonna lie; I've totally taken advantage of the Toys "R" Us going-out-of-business sales. Christmas shopping is pretty much done for my kids already. Plus, we picked up a nice car seat-stroller travel system for baby number four at a great price. And my three kiddos love their 60 percent off scooters that I just couldn't pass up.
But still... as a kid, few things compared to walking into a Toys "R" Us store and being greeted with aisles upon aisles of toys, games, electronics, and more. It was definitely an experience. And I'm sad that my own children probably won't remember it. As for me? Like so many others in my generation, I'll always be a Toys "R" Us kid at heart.