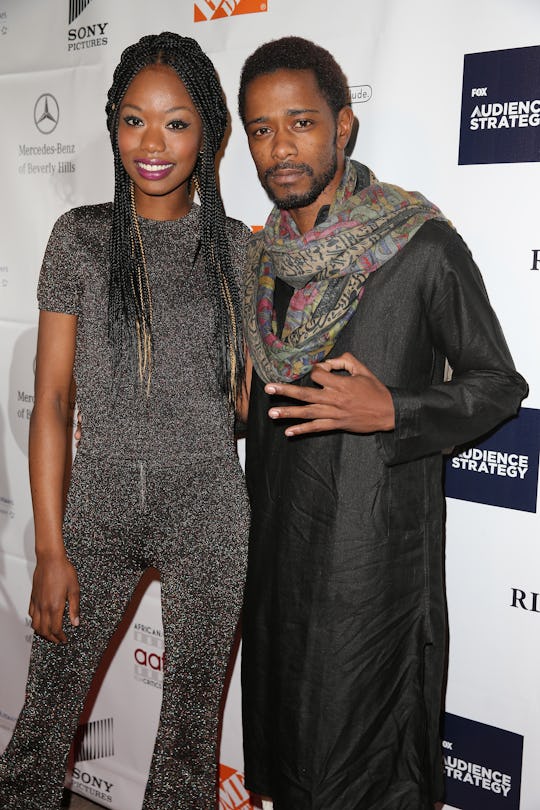 Imeh Akpanudosen/Getty Images Entertainment/Getty Images
Xosha Roquemore & Lakeith Stanfield Are Expecting!
International Women's Day took on an extra poignant twist for actors LaKeith Stanfield and Xosha Roquemore, who revealed that day, March 8, that they are expecting a new baby. In a clever and inventive Instagram post that doesn't specify when Xosha Roquemore is due or whether she and the Get Out actor will welcome a boy or a girl, the Mindy Project star showed off her bump with the fun and spot-on caption "I am WOMBMAN." She tagged it, appropriately, "#internationalwomensday."
This marks the first social media-official acknowledgement that the couple is expecting their first child together, but it's far from the first hint that the 32-year-old Roquemore dropped. Xosha was sporting a "tiny bump" when she and Stanfield attended the Sundance Film Festival back in January, according to BET. And in late February, her bump, this time adding to Roquemore's stunning appearance in a flashy fitted minidress, attracted attention when she attended the Essence 10th Annual Black Women in Hollywood awards gala, People magazine reported.
Still, neither she nor boyfriend Stanfield publicly commented on the pregnancy — until now. The "WOMBAN" Instagram post features a gallery of three photos, two that show the Precious actress cradling her bump wearing a Calvin Klein underwear set and a fur coat, and another of Stanfield doing the same while she wears a tight red dress.
Editor's Note: The Instagram post has since been deleted.
It's tough to pin down for sure when the pair first began dating, but they made their public debut as a couple at the Los Angeles premiere of the film Straight Outta Compton in August 2015, according to E! News. And it's good to know that Stanfield undoubtedly has lots of respect for his girlfriend, and will likely begin helping to raise his soon-to-be son or daughter with a feminist value or two. That's because he recently defended black women in a short YouTube video after, he said, a driver made disparaging remarks about them.
"I said, 'Whoa, whoa, wait, you talking to the wrong person, man, because as far as I'm concerned, it's the most beautiful aspect of black woman is that they've been through the most sh-t you could go through in this country,'" he said in the video. "... That's something that ... should empower you to be a better version than what the f--k you are. Instead of having you feel beat down by it, it empowers you to be better."
Fans will have to wait until Roquemore and Stanfield decide to share more information to know for she when she is due — but, in the meantime, it's fun to think about the successes the new baby will have the potential to achieve, considering his or her parents' talent.