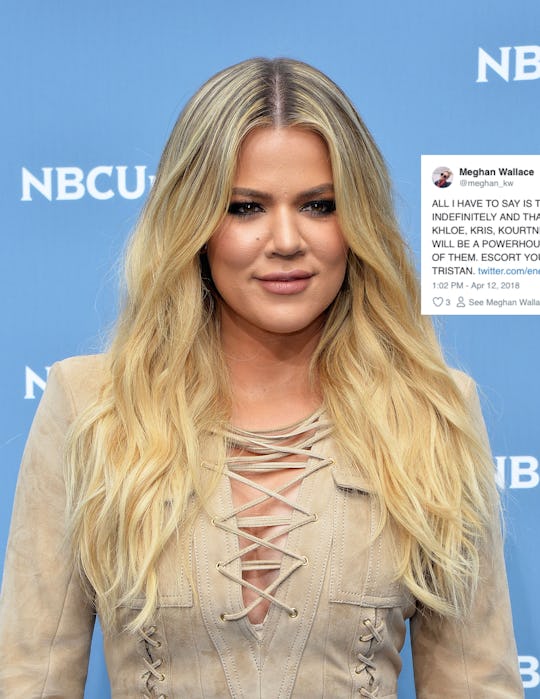 Slaven Vlasic/Getty Images Entertainment/Getty Images
When It Comes To Khloé & Tristan's Baby, Here's What We Should Really Be Talking About
This morning (April 12) Khloé Kardashian officially became a mom. She delivered her daughter in a hospital outside of Cleveland, and TMZ reported that boyfriend Tristan Thompson was by her side. The news has been just about fully eclipsed by Tristan's purported cheating scandal, but when it comes to Khloé and Tristan's baby, here's what we should really be talking about: no matter what happens between them, that kid has an incredible if not enviable support system in the form of the Kardashian-Jenner clan. Even if one man has disrupted the supposed "happily ever after," Khloé's daughter is getting something most people could only ever dream of: a tribe of super powerful, independent, bad*ss women to guide her through life.
It's easy to get wrapped up in the controversy. Fans shouldn't blame themselves for the impulse to be interested in that which is, well, interesting. If Tristan did do what it is alleged that he did, it's not good. Not for him, not for Khloé, and especially not for their daughter. But allowing his wrongdoing to tarnish everything about her birth isn't what the world should really be focusing on.
There's an old saying about parenthood: it "takes a village" to raise a child, and most people will agree that's very true. In the case of the Kardashian-Jenners, they have one of the strongest tribes out there, and one that hasn't broken even after a decade of being in the spotlight, which is a feat in and of itself.
And let's not forget Khloé's journey, either. She was married to Lamar Odom from 2009-2016, and in that time, People reported she dealt not only with his infidelity, but stood by his side while he was hospitalized at the end of 2015. Us Magazine reported at the time that he was found unconscious inside of a brothel, allegedly having overdosed on drugs. Despite all of that, Khloé stayed with him while he healed, finalizing their divorce months after he left treatment, Us also reported.
Khloé has always wanted to be a mom. In fact, last year UPI reported that she had talked about having "five or six kids" with Tristan. In other interviews, she's shared that she's been in the delivery room for all of her siblings, telling Jimmy Kimmel that she even watched as Kylie was born. But as for having children of her own, she was open about the fact that she actually faked fertility treatments with her ex-husband, knowing that the circumstances weren't right. E! has quoted her saying:
I fake tried. I was married so I knew the circumstances weren't the healthiest so I kept pretending I was doing it. I had to stop because there was much deeper stuff going on in our marriage… I knew it wasn't the right situation to bring a child into… I've done a lot of covering up for him.
Of course, this only begins to scratch the surface of everything that she's been through, and how far she has come as an individual. That she has come out on the other end of it all resilient and willing to keep trying to build the life she has dreamed of is aspirational to say the least.
The fact of the matter is that we don't know what happened the night that The Daily Mail alleges Thompson cheated (Thompson's and Kardashian's reps didn't immediately respond to Romper's request for comment). Though the evidence may seem damning, and though we may feel like we know every detail of these people's lives, we don't. We don't know that Khloé didn't know about this beforehand. We don't know that she hasn't chosen to forgive him, or if they're already broken up. Most of all, we don't know what's right for her family, and so we should focus on what we can know and what does matter: that their new baby's life is absolutely not going to be ruined over what her father allegedly did, and she has a rock solid support system to ensure that.
If Khloé does opt to raise the baby on her own (though she hasn't commented on this yet, so it's impossible to know where she is at and what her plan is) she wouldn't be the first Kardashian woman to do it. The world watched as Kourtney's relationship with Scott Disick unraveled over the years, weaving through the birth of their three children. And even for the women in her family that are not technically single mothers (Kylie and Kim) it's clear from their Instagram accounts and clips from their TV show that everyone pitches in to help everyone. Motherhood is a joint venture, it's a family business. And alongside that support system, Khloé's little girl is going to have every opportunity to do essentially whatever she could dream of. Her life is going to be remarkable no matter what she chooses to do with it, and when all of the fanfare surrounding the controversy subsides, that's what will really matter at the end of the day.