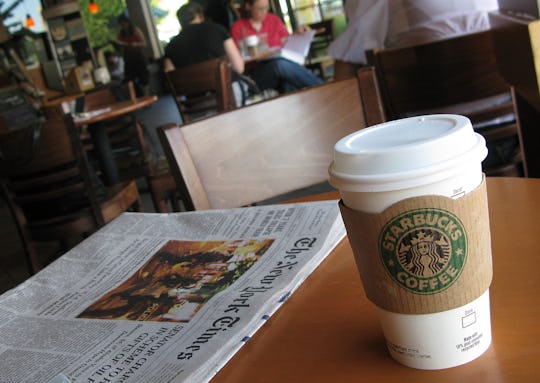 Scott Olson/Getty Images News/Getty Images
Rejoice! Pumpkin Spice Lattes Are Coming To Your Grocery Store
If you're a #PSL maniac who's tired of your local barista misspelling your name on the cup, boy, are you in luck. You may never have to deal with a green apron wearing hipster again, when you can get pumpkin spice latte products at your local supermarket. And no, I'm not talking about that knockoff nondairy creamer; Starbucks will begin selling bottled iced Pumpkin Spice Lattes and Pumpkin Spice flavored ground coffee in grocery stores this fall, according to MarketWatch. And don't worry, Keurig users, Pumpkin Spice K-cups, first introduced last year, will also be available again for a limited time.
While Starbucks still won't reveal when the original beverage with the cult-like following will return to its stores, a press release promises that the bottled drinks will be available later this month, and the ground coffee is available now. But please, don't drag your Uggs and cozy scarf out of the closet just yet, because it is still summer, and also, that look is super basic and you're better than that. Just throw on your flip flops and grab a couple bags to freeze until mid-October, OK? Don't rush the fall; it will come when it's good and ready.
I'm not a complete monster. I know that some people just can't get enough of that cinnamon, nutmeg, and clove blend that contains approximately half a milligram of actual pumpkin. I don't understand it, but I sympathize. So here are a few ways to discreetly consume it until the leaves start turning:
Ice Cream
Ice cream is a perfectly appropriate summer treat. Why not buy some disgusting pumpkin sauce and turn it into a sundae? Just tell everyone that it's butterscotch, so they don't judge you.
Burgers
Having a cookout this weekend? Mold some canned pumpkin into a patty and throw it on the grill! It's a veggie burger now.
Beer
Pumpkin beer is totally a thing now. Just slap a koozy on the bottle and nobody will know that you're drinking jack-o-lantern juice.
Candy
Candy certainly isn't fall-specific. Go ahead and cram your face full of these, see if I care.
Food That's Already Orange Anyway
I personally find each one of these products gravely offensive, but if you're the type of person who doesn't blink twice about befouling cheese and carbs with your trendy nonsense, by all means, dig in.
Literal Pumpkin Spice
Why don't you just snort it already?
Honestly, though, I'm very happy for you #PSL fans. Finally having your drink available at the grocery store is great. But I'm especially happy that you'll be drinking it at home from now on.