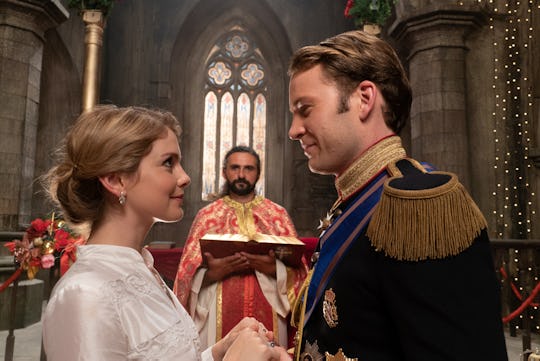 Netflix
'A Christmas Prince: Royal Wedding' Was Filmed While The Real One Took Place
Ready to deck your halls with more A Christmas Prince? Fans of the Netflix movie don't have long to wait for a second helping, as the follow-up to the tale of a hard-hitting journalist who falls in love with a prince is headed for your TV (or iPad, or whatever you stream on) on Nov. 30, less than a year after the original. So wait — when was A Christmas Prince: The Royal Wedding filmed?
Let's break this down. In Nov. 2017, A Christmas Prince premiered on Netflix and was hailed as a smash hit. No word comes from the streaming service for almost exactly six months, when Netflix announces the sequel, directed by John Schultz (Drive Me Crazy) — not Alex Zamm, who helmed the original. Filming for A Christmas Prince: The Royal Wedding had already begun by this point.
The flick was shot at the same place as the original: Peleş Castle in Romania. McIver managed to take a selfie or two while in Europe, but she wasn't there for a very long time. By June, she had left the set, which is proven by these photos of McIver and her iZombie co-stars, Rahul Kohli (Ravi) and Malcolm Goodwin (Clive) getting tattoos together:
McIver's co-star, Ben Lamb, who plays her betrothed, shared that he was headed back to London, where he resides, just two days after the sequel was revealed to the public. His simple caption, "Home time," was pretty straightforward as to its message, though he hadn't exactly shared his whereabouts while in Romania.
Netflix's announcement, which was timed perfectly with the British royal wedding between Prince Harry and his own American bride, Meghan Markle, brought reactions from the stars and fans alike. Lamb retweeted a piece of news that revealed another co-star, Alice Krige, who played his sister, Emily, would also be returning.
As for the fans, their reaction was mixed. A Christmas Prince is a movie that people hate themselves for loving unabashedly, and hey, there's nothing wrong with that. It's the holiday season, so why not get excited for a feel-good rom-com with a very, very predictable plot? These friends on Twitter summarize my feelings exactly:
I'm also seriously here for these Twitter users' reaction to the news. If you didn't cry at a cheesy holiday movie, did you even watch a cheesy holiday movie?
Oh, and what you get with your Netflix movies is a heaping dose of snark from the hilarious minds of those who run its social media accounts. One Twitter user commented about her excitement for the upcoming flick, and Netflix was quick to call her out on her choice of modifier:
I'm guessing you're at peak excitement level yourself right now. Good! A Christmas Prince: The Royal Wedding is on the way to bring us a very realistic look into what fancy European nuptials ala Meghan and Harry are really like. OK, that's very much not true, but hey, we can pretend, right?
This first-time mom wants to have a home birth, but is she ready? Watch how a doula supports a military mom who's determined to have a home birth in Episode One of Romper's Doula Diaries, Season Two, below. Visit Bustle Digital Group's YouTube page for the next three episodes, launching every Monday starting November 26.