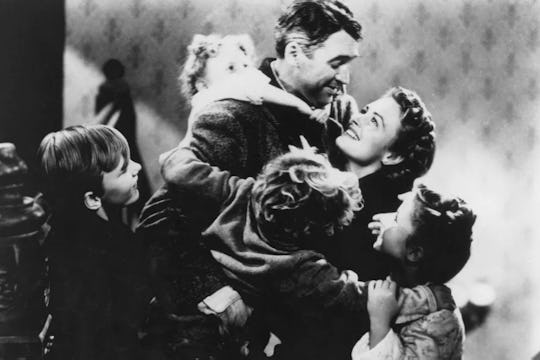 NBC Universal
'It's A Wonderful Life' Might Be The Most Relatable Holiday Classic Out There
Though it's a classic, It's a Wonderful Life is one of the darker Christmas movies out there. Depicting a distraught man, George Bailey who wishes on Christmas Eve that he'd never been born, the flick has become regular viewing for many around the holidays. The story is set in 1945, shortly after the end of World War II, but when was It's a Wonderful Life made?
As it turns out, the black-and-white movie was a modern one at the time. The film made its debut in December of 1946, appropriate for the holiday crowd. However the story's origins go back just a bit further. It's a Wonderful Life is based on a book — or, well, a short story titled The Greatest Gift by Philip Van Doren Stern. Shortly after it was published acclaimed Hollywood filmmaker Frank Capra came across it, and decided it would be perfect for his next project. Capra directed and produced It's a Wonderful Life.
Despite its now international level of recognition, It's a Wonderful Life was not a box office smash. In fact, it didn't even manage to break even. However, it did receive a bit of Oscar love: It scored nominations for Best Picture, Best Director, Best Film Editing, Best Sound Recording, and Best Actor for star James Stewart. Sadly, it only took home a Technical Achievement Award for the fake snow used in the film, which was a new compound created especially for this movie.
But as the years progressed, so did viewers' affection for this Christmas tale. Though it is very much a period piece now, so much of the main character's plight is still relatable. George has big dreams and faces many hardships including disability, death, and financial woes. When it seems as though things can't get worse, he is granted something many of us never obtain: Perspective, complete with a spiritual guide to point out where he has made a difference. Of course, it could all have just been the alcohol the whole time…
Possibly because the themes are timeless, or because it is just an incredible film, It's a Wonderful Life has continued to live in various forms. There's the movie itself, of course, which has landed on many "best of" lists, and not just those with a holiday hook. It has been adapted as a live radio play, a stage production, and even a musical. And there's the not-so-subtle borrowing of the general premise that has leaked into flicks such as Hallmark's A Christmas Spirit — among many, many others.
So while you're ingesting Christmas movies left and right — be they on Netflix, Lifetime, or your own well-maintained childhood DVD collection — remember that these tales come from the classics of the past. And when they seem just too cheery for their own good, know that there's a holiday story for viewing that is far more realistic, even if it does feature an otherworldly being.
After experiencing a traumatic c-section, this mother sought out a doula to support her through her second child's delivery. Watch as that doula helps this mom reclaim the birth she felt robbed of with her first child, in Episode Three of Romper's Doula Diaries, Season Two, below. Visit Bustle Digital Group's YouTube page for more episodes, launching Mondays in December.