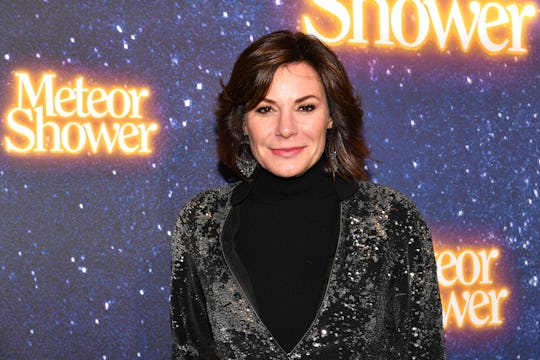 Dia Dipasupil/Getty Images Entertainment/Getty Images
This Is When Luann Was Actually Arrested On 'RHONY'
Between Seasons 9 and 10 of Real Housewives of New York, one of the show's original cast members, Luann de Lesseps, was arrested in Palm Beach, Florida on charges of intoxication, disorderly conduct, and resisting arrest. This week, we'll finally see details of the incident play out on the show, but fans tuning in may be wondering: when was Luann arrested? The events depicted in episode 10 of the season, titled "You Broke the Penal Code," took place on Christmas Eve 2017.
As we saw in the previous episode, Luann had just settled into her furnished Upper West Side penthouse, ready to recenter herself in her own space and start a newly independent life after the lightning quick dissolution of her marriage to Tom D'Agostino just seven months after the wedding. Forty-eight hours after filming a scene in which she toasts to her move-in with her realtor, we see dashcam footage of Luann being loaded into a cop car, mugshots, and footage of her in front of a judge in court. Needless to say, Luann did not ring in the holidays as refreshed and renewed as she was anticipating. She wound up canceling her plans to travel to South America after New Year's and checked herself into an undisclosed rehab facility instead, according to People.
The December 24th arrest was apparently spurned by Luann ending up in the wrong hotel room at the Colony Hotel in Palm Beach. She detailed the amount she'd had to drink on Dr. Oz — a bottle of rosé split with a friend, followed by some more rosé sent over by fans, and then two martinis later in the evening — and insisted that was a normal amount of alcohol for her to consume over the course of the day.
"That's kind of a regular kind of thing. You know what I mean? In terms of the drinking path that I was on," she told Dr. Oz. "So I almost think that somebody slipped me something because I don't remember a thing after that."
She also acknowledged that being in Palm Beach for the first time since her wedding — on her would-be one-year anniversary, no less — brought up a lot of stressful emotions, which seems like an equally plausible explanation for why she got drunker than usual after drinking what equated to a normal of alcohol for her. Studies have shown (and I, a sample size of one can emphatically confirm) that stress can make you feel drunker faster.
Police arrived on the scene when Luann was discovered in the wrong room, and things escalated from there. "So they come after me and I was drunk, so I wasn't equipped to handle it," she continued on Dr. Oz. "And I got scared and I ran like a child to the bathroom. Okay. And so I locked myself in the bathroom and then [the police officer] tried to open the door and he opened the door and then I closed the door and it hit him in the forehead. So that's battery that I did on a police officer."
In previews for "You Broke the Penal Code," we also see Luann questioning officers on what she did wrong while restrained in a cop car and being ignored. She slips off her handcuffs and an officer threatens to hog-tie her if she doesn't stay in the car. So, in fairness, it doesn't seem like she was being treated very empathetically either, which probably contributed to the aggression in the situation. Ultimately, Luann says she considers the arrest to be a wake-up call from the universe and admits that she's "grateful" to the ordeal for helping her work through some of her unhealthy coping mechanisms.