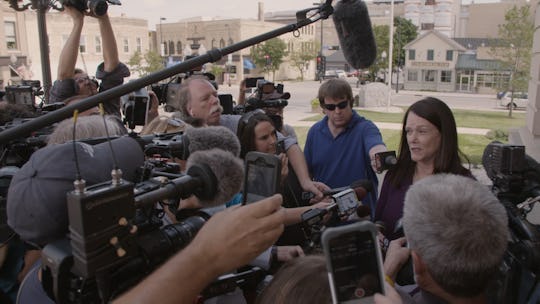 Netflix
'Making A Murderer: Part 2' Continues The Story It Started In Part 1
The popularity of Netflix's docuseries Making A Murder renewed interest in the alleged wrongful conviction of Steven Avery and Brendan Dassey for the murder of Teresa Halbach. Issues with the investigation were highlighted on the show, but the story didn't end with its final episode. A sequel series premieres on Netflix on Oct. 19, but when was Making a Murderer: Part 2 filmed?
Part 1 was filmed over the course of 10 years, but Part 2 had a much smaller window. It seems as though it picked up right where the first installment left off, according to Netflix, this time taking a closer look at the post-conviction process and how it affected all of the people involved. Making a Murderer initially debuted on Dec. 18, 2015, but the filmmakers had been following Avery and Dassey long before that.
Avery had been wrongfully convicted once before on rape charges but was exonerated based on DNA evidence; he was in the middle of leveraging a lawsuit against Manitowoc County when he became a suspect in Halbach's murder. She was a local photographer who had last been seen on his property. Avery said that he had nothing to do with her death, but he was convicted in 2007 and sentenced to life.
Dassey was Avery's young nephew. He confessed to taking part in Halbach's murder, though some believe he may have been coerced into confessing. In the series, Dassey's legal team argues that investigators used unfair coercive tactics that Dassey was particularly vulnerable to due to his young age, lack of a parent present, and his possible learning disability — his IQ is said to be around 70. He was convicted in 2007 as well, though he has since stated that he was not involved in the murder.
A lot has happened in both Avery and Dassey's cases since Part 1 concluded. At the Television Critics Association's summer press tour, Netflix Chief Content Officer Ted Sarandos said, "There is a ton of info that wasn't explored just in the confines of the episodes we've already done. There's a lot of new information coming up."
In a statement to The Hollywood Reporter, executive producers, writers, and directors of the series Laura Ricciardi and Moira Demos revealed exactly what Part 2 would be about, and how it would differ from Part 1, saying, "Steven and Brendan, their families and their legal and investigative teams have once again graciously granted us access, giving us a window into the complex web of American criminal justice." They continued:
Building on Part 1, which documented the experience of the accused, in Part 2, we have chronicled the experience of the convicted and imprisoned, two men each serving life sentences for crimes they maintain they did not commit. We are thrilled to be able to share this new phase of the journey with viewers.
One major turn in the case was when Dassey's conviction was overturned in 2016 — only for his prison release to be denied and the conviction upheld after all. At the time, the Chicago Tribune reported dissenting Judge Ilana Diamond Rovner saying:
His confession was not voluntary and his conviction should not stand, and yet an impaired teenager has been sentenced to life in prison. I view this as a profound miscarriage of justice.
It's likely that Part 2 will depict those events, and the continuing fight to overturn both convictions, as it seems they have been filming since Part 1 ended. Making a Murderer: Part 2 was able to capture every new development from the last few years.