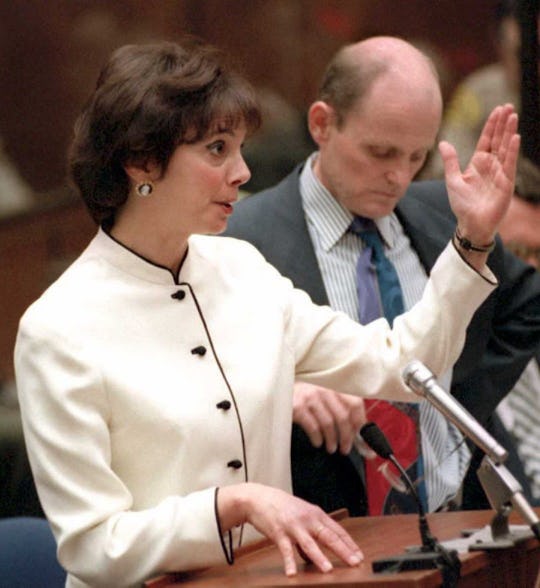 POOL/AFP/Getty Images
When Was Marcia Clark Raped? The Former Prosecutor's Allegations Are Terrifying
Public sympathy for former Los Angeles County prosecutor Marcia Clark has perhaps never been higher. Losing the O.J. Simpson murder trial in 1995 effectively ended her law career, and now the FX series The People v. O.J. Simpson is illustrating to a new generation how rough Clark had it as she was working the "Trial of the Century" while raising two kids and going through a bitter divorce. Now, a new interview with The Hollywood Reporter has reminded the public that she's also a former victim herself. For the first time in years, Marcia Clark discussed being allegedly raped while on vacation in Israel at the age of 17.
Clark originally opened up about the alleged rape in her memoir, Without a Doubt, which was published in 1997. She described then, as she does now, how she "buried" the memory, but it later resurfaced when she met with a rape victim as a prosecutor, according to the Independent. As a graduation gift, Clark's parents sent her on vacation with a Jewish youth group, and that's when Clark met her alleged rapist, a waiter at the resort where she was staying in Eilat, a southern resort town that borders the Red Sea.
Clark described the waiter asking her out, but said she turned him down. Afterwards, she returned to her room for a nap, and when she awoke, she said the waiter was in her room, having used a master key to enter. She said she was scared, but the man claimed that he was just checking to make sure that she was OK, and she agreed to go to a cafe with him. Later, the man convinced her to come back to his room, insisting that he felt "like a big brother" to her.
When Clark attempted to eventually leave his room, however, the waiter allegedly sucker punched her, then violently raped her, tearing her clothes and bruising her. Once it was over, Clark told THR, she walked straight into the sea. "I was going to kill myself. I felt so worthless. And then I got mad. All I could feel was anger, which probably saved me."
The alleged incident shifted Clark's plans of becoming an actress to practicing law. Clark was originally a public defender, but once she started getting assignments to defend violent criminals, she couldn't take it. Asked by THR how many she believed were innocent, Clark answered "None of them." According to the Guardian, after successfully defending an accused murderer, Clark was "devastated." She went straight to the District Attorney's office and told them that if they didn't hire her, she'd quit practicing law. She was hired, and went on to be very successful, winning 19 out of 21 murder trials. It's a shame she didn't continue to practice law, but after what she's been through, you certainly can't blame her.