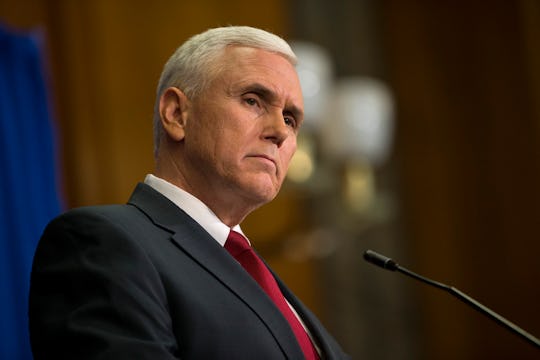 Aaron P. Bernstein/Getty Images News/Getty Images
When Was Mike Pence Elected To Congress? Trump's Reported VP Pick Has History
Roll Call announced mid-morning on Thursday, July 14, that Donald Trump picked Mike Pence as his vice president, according to a source who spoke with the site. Though the news has yet to be confirmed by the Trump campaign or Trump himself, we'll likely learn a lot more about the candidate and Trump's running mate in the days and weeks to come, with a heavy focus on his background in politics. Pence's Congressional career will prove to be incredibly important to Trump since many feel Trump needs someone on his ticket with a little Washington know-how to help validate his bid for the White House. So questions like when was Mike Pence elected to Congress, what has he voted for? against? and what's his track record like in office are all fair game — and incredibly important.
UPDATE: Trump confirmed Pence as his vice presidential running mate in a tweet Friday morning and said he would host a news conference on Saturday.
According to a tweet posted by Trump's senior communications advisor Jason Miller to Twitter, Miller reiterated that even though Roll Call leaked the news a day early, that doesn't mean anything is set in stone yet. The gist of Miller's message went as follows: Until Trump confirms it, anything can happen. And as we've all come to expect this election season, you have to expect the unexpected.
According to Pence's website, before serving in Congress, Pence "served in leadership roles as Chairman of the Republican Study Committee and Chairman of the House Republican Conference. As a Member of Congress, Mike developed a reputation as an advocate for limited government, fiscal discipline, a strong national defense, and traditional moral values." And Bloomberg Politics had this to say about Pence's 15-year political career:
Social conservatism has been a guiding light in the 15-year political career of Pence, now the governor of Indiana and a top contender to be the vice presidential pick of presumptive Republican nominee Donald Trump. He has labeled himself "a Christian, a conservative and a Republican — in that order."
After taking office in 2013, Mike Pence put in place the "largest state tax cut in Indiana history," according to his personal website, and eliminated the business personal property tax for the state's small businesses. Pence was elected to the U.S. House of Representatives in 2000 after losing twice in 1988 and 1990. He ran and was elected in 2000 after the incumbent representative David McIntosh left his seat in the House to run for governor. Indiana.gov dubs the could-be vice presidential pick as a "strong supporter of the military," who has made it his priority to "reduce veteran unemployment." The site notes that while serving in Congress, Pence visited with Indiana soldiers touring in Iraq and Afghanistan.
If Pence is, in fact, Trump's running mate, it'll be interesting to see how the Republican party, its voters, and the rest of America embrace his politics and policies.