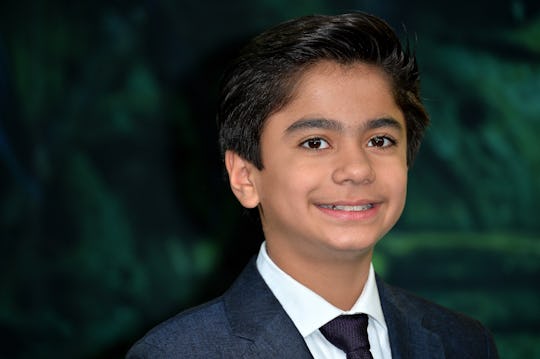 Anthony Harvey/Getty Images Entertainment/Getty Images
When Was Neel Sethi Born? The 'Jungle Book' Star Has Accomplished A Lot Already
It's official — The 2016 version The Jungle Book is a hit. Between stellar reviews on Rotten Tomatoes to news of a brand new sequel to the movie in the works, The Jungle Book is definitely going to be something you'll be hearing about now and for the years to come. By now, you've probably heard of Neel Sethi, the young star of The Jungle Book. So you've probably wondered how exactly he's accomplished so much in so few years, and tried to figure out when was Neel Sethi born, so you could measure your own life accomplishments against his. (Hint: Don't try to do that, you'll probably just end up feeling terrible.)
According to his page on IMDB, Sethi was born on December 22, 2003 making him only 12 years of age (yep, I feel incredibly old right now). At just 12, Sethi seems to have accomplished a lot in such a short period of time.
In his Twitter biography, run and monitored by the people on his PR team, Sethi proclaims he "love[s] sports, love[s] to make people laugh, [and loves] being Mowgli in The Jungle Book," which makes him sound like a normal pre-teen boy — which he was of course, before he got his big break.
Sethi was chosen to play Mowgli out of thousands of audition tapes during an extensive search from New Zealand to New York, where Sethi is from. Even though he hadn't had a lot of acting jobs to his name before he got the job, his director had very good things to say about him.
"Neel has tremendous talent and charisma," director Jon Favreau said of the decision to cast Sethi in The Jungle Book, in a statement to Variety back in 2014. "There is a lot riding on his little shoulders and I'm confident he can handle it."
Sethi also starred in the short film Diwali three years ago, at the age of 9. However, the film is just that — short. According to IMDB, the film is only three minutes long, but it was Sethi's first foray into acting before The Jungle Book, and led him to where he is today — still an important accomplishment.
Sethi was only a student in New York just a few months ago. However, when asked if starring The Jungle Book would make him any more popular amongst his fellow students, Sethi replied that he didn't know but revealed that he was already pretty well liked amongst his fellow classmates. "I don't know. Maybe. I mean, I'm kind of up there."
Sethi did tell The Independent that since filming The Jungle Book, his life has become completely different — in a good way, of course:
My life is crazy different now. I'm not in school... I don't get to see my friends. But I'm in a movie. I'm flying across the world. I'm doing stuff like this. I'm doing premieres, which is really cool. So it all balances itself out.
While he may be young, Neel Sethi has already accomplished plenty — and with a Jungle Book 2 in the works, it looks like he might definitely go on to accomplish more.